4 Things Parents Should Expect When Transitioning between Swim Programs
Katie O'Brien and her two sons, Drew and Teddy, have been with WeAquatics for over five years. Drew, her eldest, has gone through every available swim program (Infant Swimming Resource, Learn-To-Swim, and Young Masters), and her youngest is currently in infant swimming maintenance lessons.
If you're thinking about enrolling your child in any level of swim lessons, here's the experience of the O'Brien family and what you need to know if you're on the fence about taking the plunge.
1. Are Infant Swimming Resource (ISR) lessons right for us?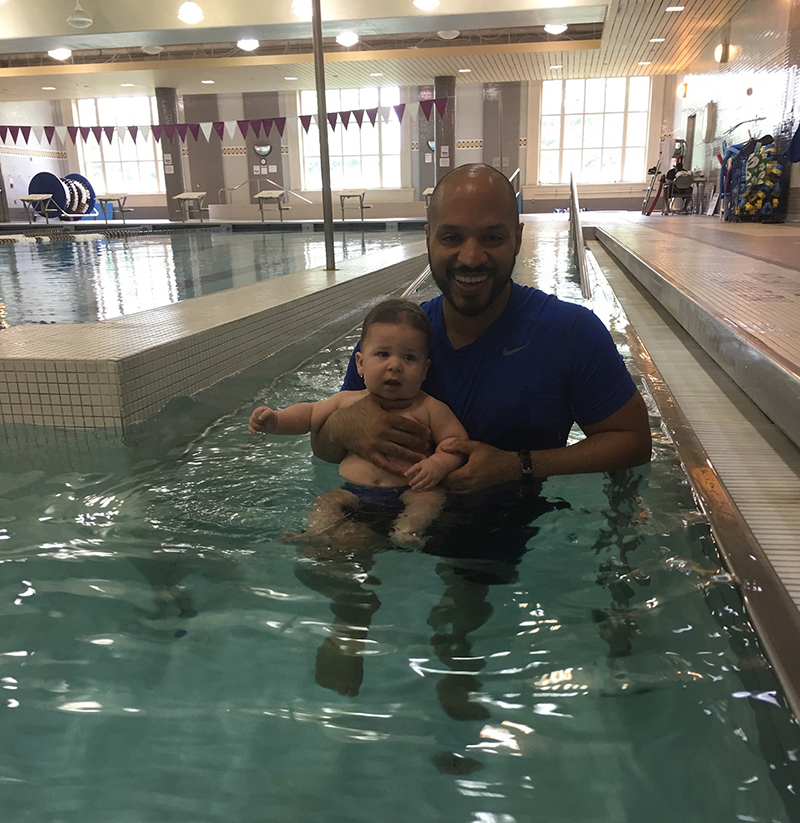 Coach David Worrell and Drew O'Brien
In the case of the O'Briens, they always knew they wanted to enroll their children in infant swim lessons.
"I had seen the [ISR] videos online, and we knew, even before we had Drew, that we wanted our children to be able to swim," said O'Brien.
For those not sure, here's a breakdown of who's a good fit for infant swimming lessons.
Any child who is able to sit up unassisted. (This happens around six months.)
The muscles necessary to roll over in the water are the same for successfully sitting up, so the child must be physically able to complete those actions. 
A family committed to the ISR process.
ISR requires the child to attend ten-minute lessons five days per week for about five to seven weeks.
Why is it such a big time commitment? The program is built on developing and improving muscle memory in the child, and the frequency of lessons allows that to happen.
"When we started lessons, the location wasn't convenient. The pool was an hour away, so it was a two-and-a-half-hour time commitment. Every day. But it was so worth it," said O'Brien. "The time, the effort, the energy, the money, everything was one hundred percent worth it to have him comfortable and safe in the water."
A family with reasonable expectations.
Before beginning infant or toddler survival swimming, go in with reasonable expectations.
Know these skills won't be developed overnight, and be aware that progress will rarely be a steady line of improvements you can track from class to class. 
"There'll be weeks where it doesn't seem like much is happening. You're not sure that it's working, and you're not sure they're going to get it," said O'Brien. "But when they get it, they get it, and it's just so cool to watch."
A family who wants peace of mind.
Swimming lessons are one of the best ways to enforce water safety, with formal swimming lessons contributing to an 88 percent drowning risk reduction for children one to four years old. 
Going through survival swimming lessons gives families that extra peace of mind.
"Now that we have two children, we're dividing and conquering," said O'Brien. "It's just such a relief. We can go to the pool, or we can go to the beach. We can play on a boat, or we can have bath time, and I don't have to worry as much about something happening."
2. Is the administrative move between swimming programs difficult?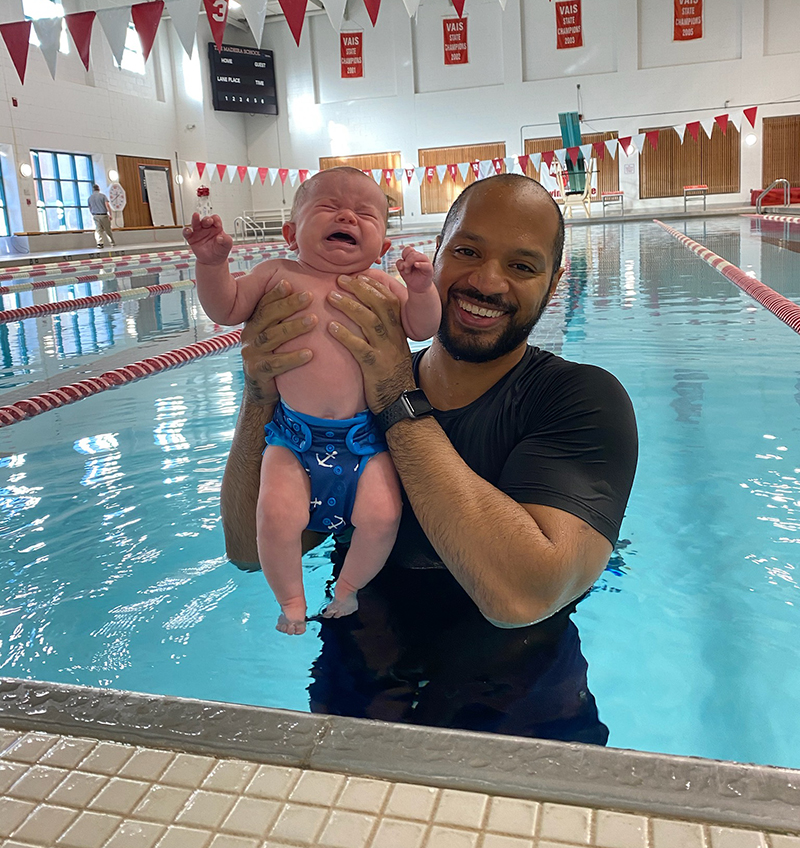 Teddy O'Brien with Coach David
When students move between swim programs, it often means a change in swimming lesson schedule, payment structure, and coach.
From the administrative side, the O'Briens had no issues at these points of transition.
"Literally no trouble," said O'Brien. "There's a client portal. There's people to do the scheduling. They just looked at the calendar. They found the appointments, and we moved from a ten-minute weekly lesson to a thirty-minute weekly lesson."
3. How is the transition between different swim coaches?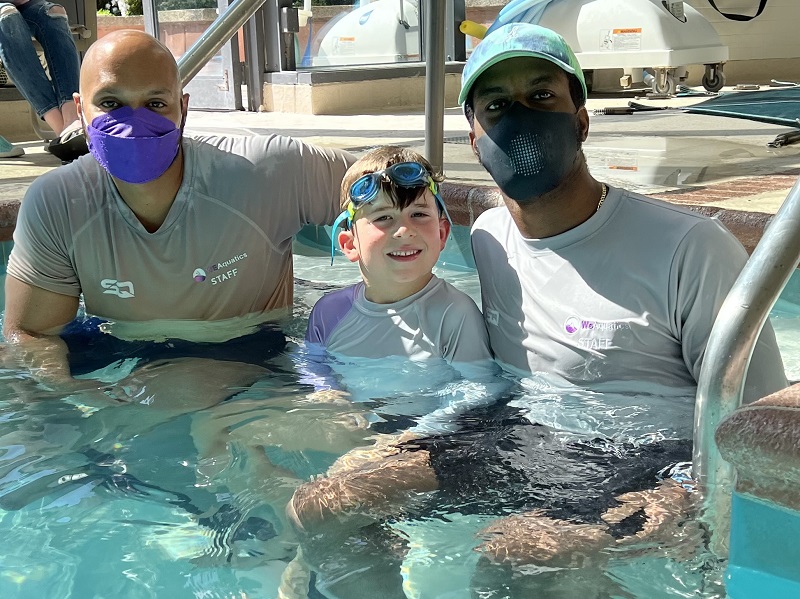 Left to right: Coach David Worrell, Drew O'Brien, and Coach Jared Miller
For swim coaches to operate successfully, their students must trust them. It's understandable, then, when parents worry about changing instructors through different swim programs.
Over five years, the O'Briens have worked with many WeAquatics instructors, based on scheduling, availability, and location. This means they have experienced firsthand the collaborative nature of the WeAquatics instructors.
"David helped in that he talked to whoever was going to be Drew's next swim teacher. He let that new instructor know Drew's strengths and his weaknesses. He told them Drew needed to swim hard and then have a little time to relax and play to have the best lesson," said O'Brien. "They all worked together as a team to put into practice what Drew responds to best."
While every instructor was different, there was also consistency across the lessons.
"Everyone teaches a little bit differently. But they're all teaching the same skill, and they're all teaching how to do that skill," said O'Brien. "So, there's a way they teach backstroke, and there's a way they teach breaststroke. There's a manual. But then they can change what they're doing if the kid needs help and needs to be taught in a different way."
4. What was the child's experience transitioning to different swim programs?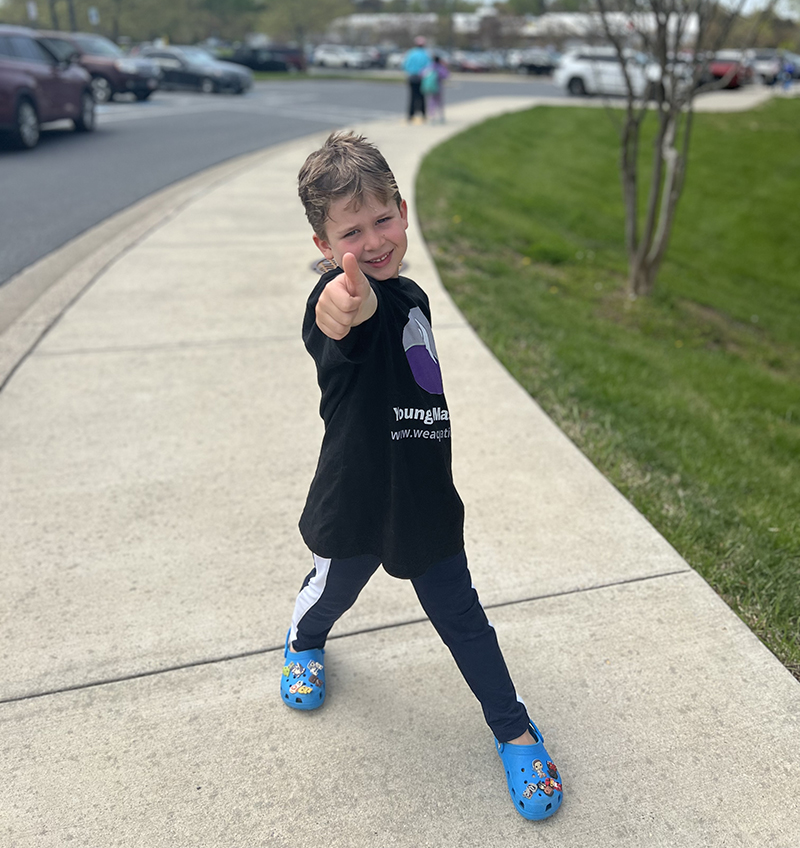 WeAquatics student Drew O'Brien
To join the Young Masters swim team program, you must be familiar with all the core swimming strokes. The swimmer must be cleared to join and have the conditioning for lap swimming.
"When WeAquatics invited Drew to join Young Masters, he was so excited. It felt like such a big kid thing to do!" said O'Brien. "Watching Drew swim on a swim team and go to swim meets as a team is a really cool thing to watch your five-year-old do. The camaraderie between the teammates as they cheer each other on is something special to watch."
Ready to Start Your Child's Water Safety Journey?
Register your little ones in fun, safe swim lessons now, and watch them develop an important survival skill they'll have for a lifetime! Get started today.