We all want the ideal club or the magic ball, but what is one thing every golfer, whether serious amateur or high handicapper, must rely on every single time they step out onto the course? The right pair of golf shoes, of course!
We are on our feet for over four hours playing a round of golf. So how can we concentrate on our shots if we're not happy with our shoes? Making the right choice for you is essential – and that means comfort, style and value. We all know golf can be an expensive game if you let it, but with people's purse strings tightening, everyone is looking for the best value. We all want cheap golf shoes. But we don't want the wrong shoes. Nobody's idea of a bargain is to have to buy a replacement pair of within a matter of weeks, so there are plenty of factors to mull over before going ahead with your purchase.
---
Should you choose spiked or spikeless golf shoes?
Traditionally, the golf shoe was always spiked and for many years, they were often metal spikes. This was to aid golfers maintain that balance when they were swinging the club in case they were doing so on slippery ground. Increasingly though in recent years, metal spikes have changed to rubber ones because rubber ones do less damage to greens and paths around the course.
Now many golf shoes have gone spikeless with more of a flat rubber traction surface on the sole. Also in appearance, spikeless golf shoes look more like trainers and they could easily be worn away from the course, whether that is grabbing a quick drink at the 19th hole or stopping off for a coffee somewhere. Adding that extra pair of footwear to your collection may sway you towards spikeless.
Or you may want absolute reassurance when playing on a wet day or in slippery conditions with spiked shoes as confidence in your footwear will allow you to focus all your energies on improving your game. You may also want to be wearing something on your feet that you consider to feel and look like a traditional golf shoe. As you can see, opting for spiked or spikeless is a decision that will go a long way towards finding the golf shoes that are right for you.
---
Should You Choose Premium or Budget Brands?
Do you want to look like one of your favourite pros when out on the course? Do you need to feel like Rory McIlroy or Nelly Korda to unearth your best golf? Will having a pair of golf shoes you could imagine on the feet of the pros help you over that tricky bunker shot or knee-knocker of a putt with the post-match drinks riding on it? Or are you simply happy with golf shoes that keep the rain out and keep a few more pounds in your pocket?
It's easy to spend more than £150-£250 on a pair of high-quality shoes from a premium brand. That could be ECCO or Footjoy, the company who have long liked to call themselves, 'The No.1 shoe in golf,' or even Hugo Boss who are now producing uber-trendy golf shoes to go along with their classic clothing lines. There is also a new Italian player on the golf-shoe market in the form of Duca del Cosma.
However, it is certainly possible to obtain the best value golf shoes for plenty under £100. There are shoes from those well-known German sports giants adidas and Puma and the stylish ladies' company GOLFINO for those players who are brand conscious but want more of a budget price. While Fazer and Ellesse offer excellent alternatives at the cheapest end of the market for those wanting a reasonably priced pair of golf shoes.
We have picked out ten pairs of budget golf shoes, all under £80 for you to choose from.
---
The Best Budget Golf Shoes for Men in 2022?
---
Fazer Men's Ventura Spiked Shoes (£39.99)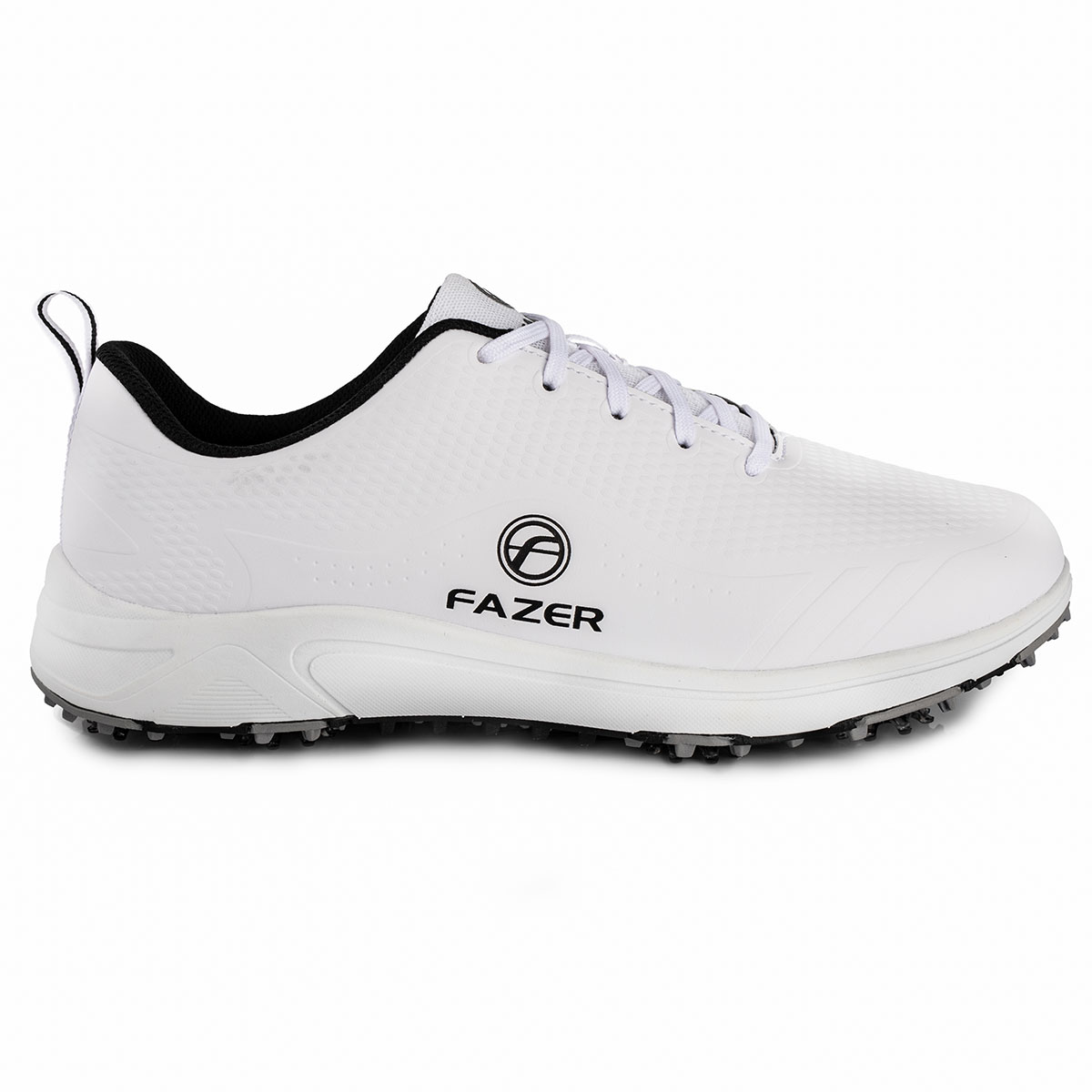 ---
· Colour Choice: Black & White
· Sizes Available: 7 – 11
· Price: £££££
Reason to buy:
· spiked rubber outsole to give you good traction on the course
· one-year waterproof guarantee
---
Now I will let you into a little secret here – I have a very soft spot for Fazer, having played with Fazer irons for years. I loved those clubs and I still have my Contender Series II sand wedge in my bag even now. The club is over 20 years old, but it has got me out of so many tricky spots on golf courses all over the UK. It's my old faithful! So, I am naturally drawn to their range.
First up, their Ventura Spiked Shoes – which come in either pure white or pure black. For me, that would be a no-brainer. As a size 12, I have always gone for black shoes. With such large feet, I prefer not to draw as much attention to them on the course as wearing a pair of pure white shoes would do. Apologies, I digress. If my own recollections have not done it, these Fazer shoes do offer a stylish upper and a spiked rubber outsole to give you good traction on the course, while they come with a one-year waterproof guarantee.
---
Rife Men's RF-10 Edge Waterproof Spikeless Golf Shoes (£44.99)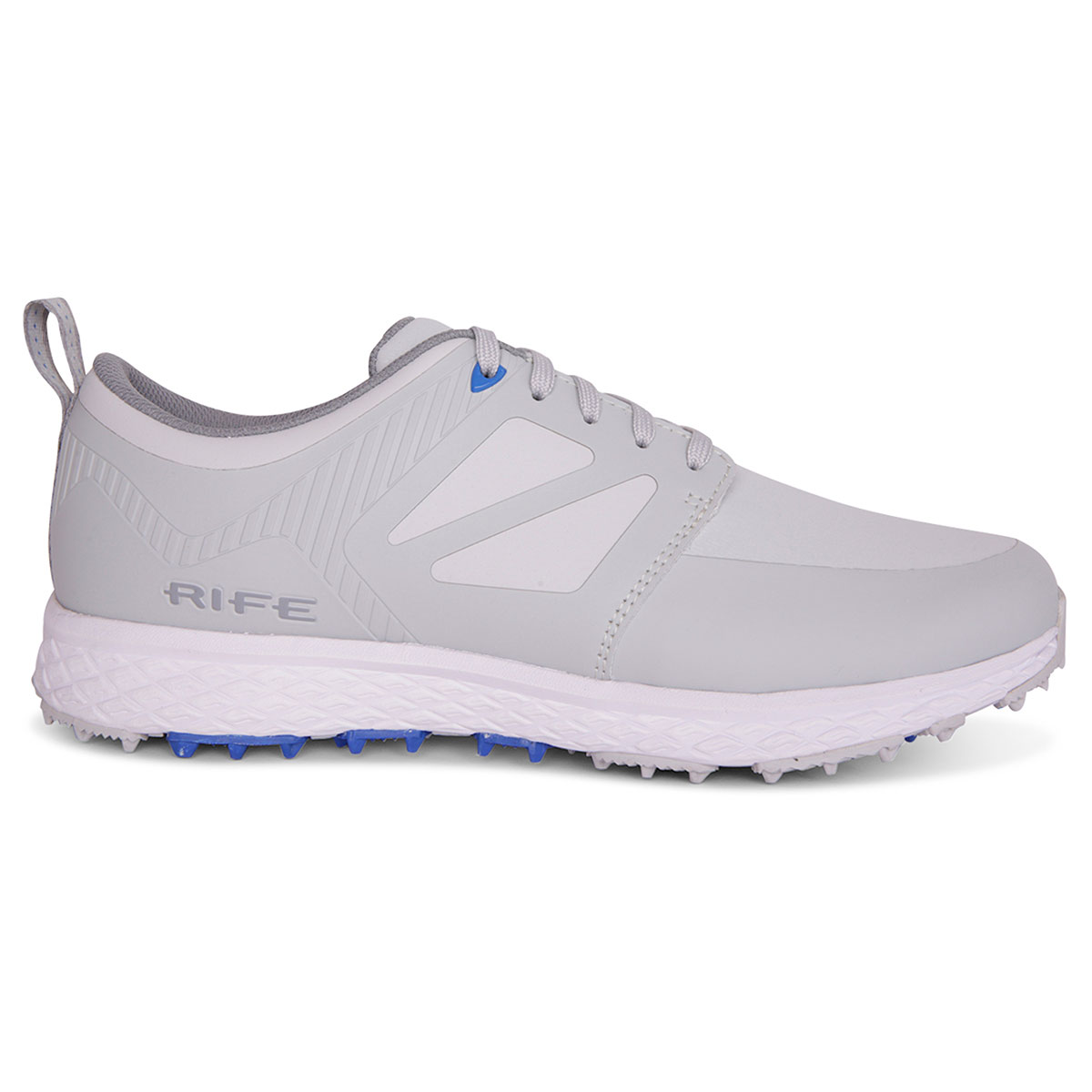 ---
· Colour Choice: Black & Grey
· Sizes Available: 7 – 10
· Price: £££££
Reason to buy:
· spiked rubber outsole to give you good traction on the course
· one-year waterproof guarantee
---
Here is a golf shoe that demands to be seen away from the golf club. Rife has produced a pair of shoes that scores exceptionally well on value-for-money. Offered in grey with a hint of blue, and black with a dash of red, the shoes have a spikeless rubber outsole that provides the versatility that the modern male golfer wants, with a great grip on all surfaces and most definitely when under the strain of a golf swing.  The EVA insole offers the comfort needed for a long day out on the course, so there is no point blaming your feet if everything else about your game happens to be misfiring!
---
adidas Golf Men's Traxion Lite Max Shoes (£64.99)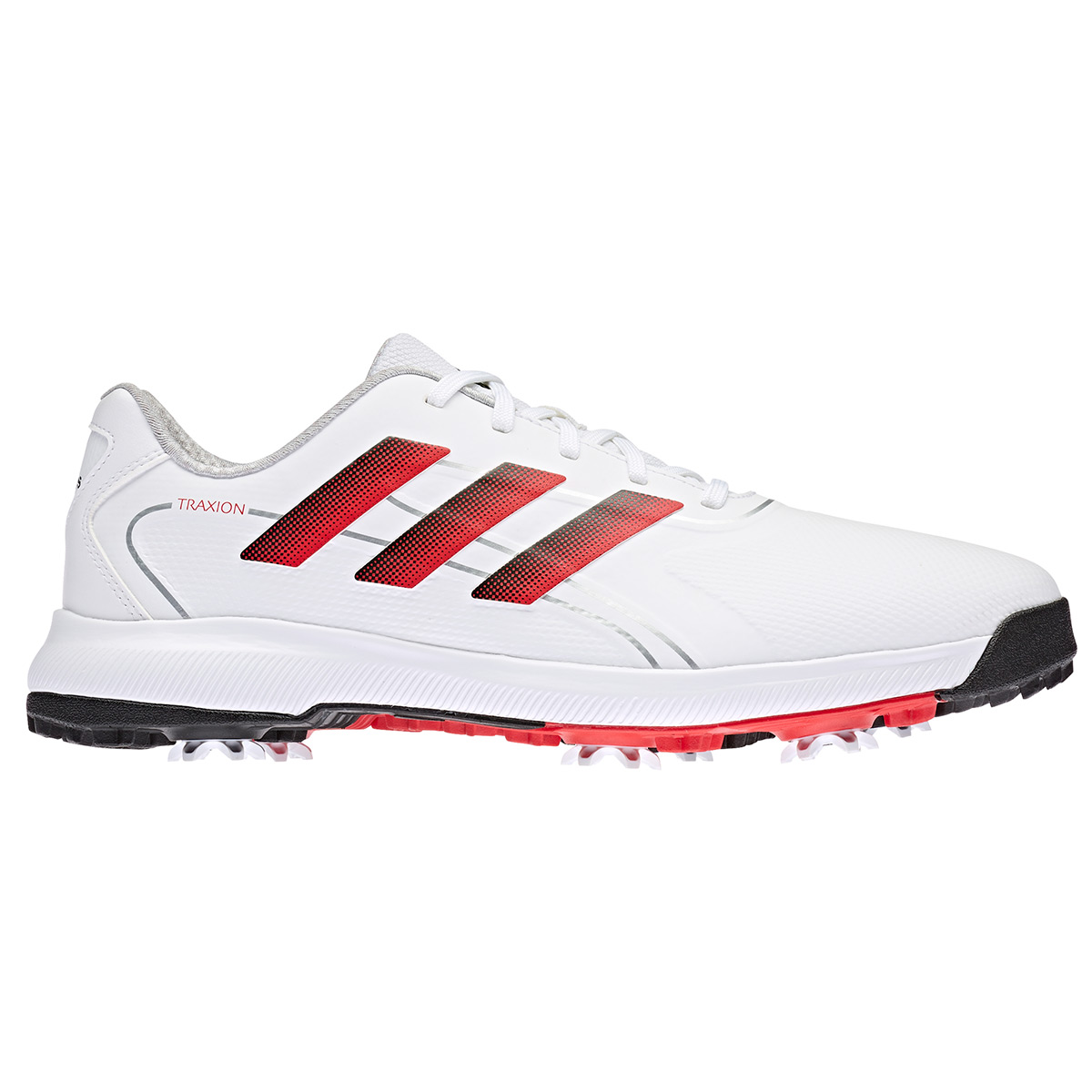 ---
· Colour Choice: White
· Sizes Available: 7 – 11
· Price: £££££
Reason to buy:
· ADIWEAR Non-Marking Outsole
· Made with PRIMEGREEN recycled polyester
· Excellent waterproof performance
---
They have the look of a tennis shoe but make no mistake, the famous German manufacturers have come up with the goods with this golf shoe. With the classic three stripes – in red – on a white shoe, other players will have no trouble identifying what you are wearing if a brand is particularly important to you. The adidas shoes, which are an American Golf exclusive, tick all the boxes, scoring highly for comfort and style. They offer long-term durability and excellent waterproof performance to keep you dry in any conditions. While for those of you conscious of the environmental impact of your purchase, this shoe is made with PRIMEGREEN recycled polyester as the sports giant tries to reach 100% recycled polyester in each of its products by 2024.
---
Fazer Men's Victory Waterproof Spikeless Shoes (£59.99)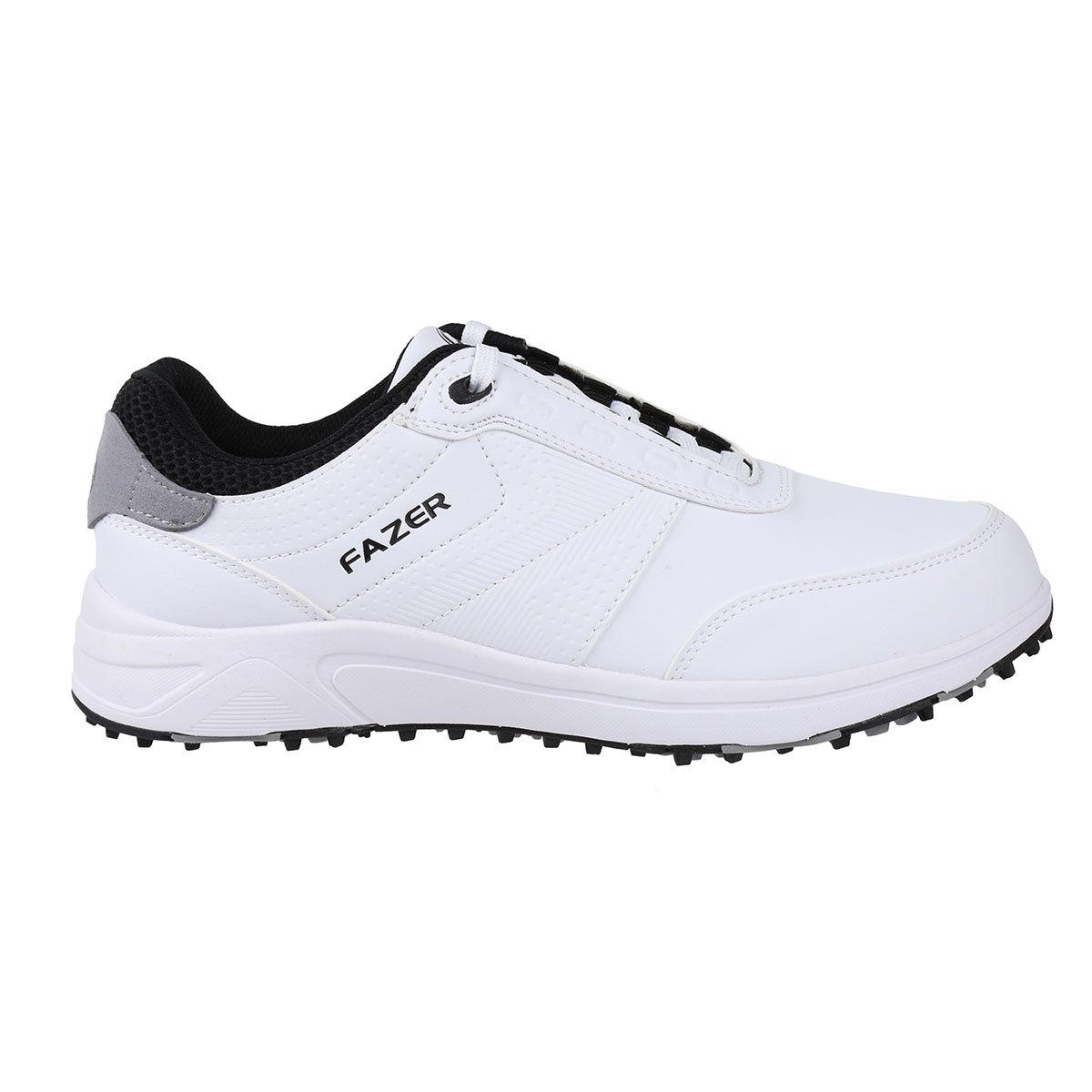 ---
· Colour Choice: White
· Sizes Available: 7 – 11
· Price: £££££
Reason to buy:
· Waterproof
· Performs well in any weather
· Lightweight EVA cushioning
---
Another offering from the Fazer range, although this one will force you to dig slightly deeper into your pockets. However, for that extra expenditure, you get a shoe that performs well in any weather. At first glance, this predominantly white shoe looks like one that could be seen on the tennis court. But rest assured, it is not out of place on the golf course. The upper part of the shoe is both stylish and waterproof and comes with a one-year guarantee to provide peace of mind for the forthcoming winter season. Lightweight EVA cushioning does the job for comfort in those long hours on the course and the rubber outsole allows you to wear these on the green or in the clubhouse without looking out of place in either. And that is most certainly a victory in my eyes.
---
PUMA Golf Men's FUSION EVO Shoes (£49.99)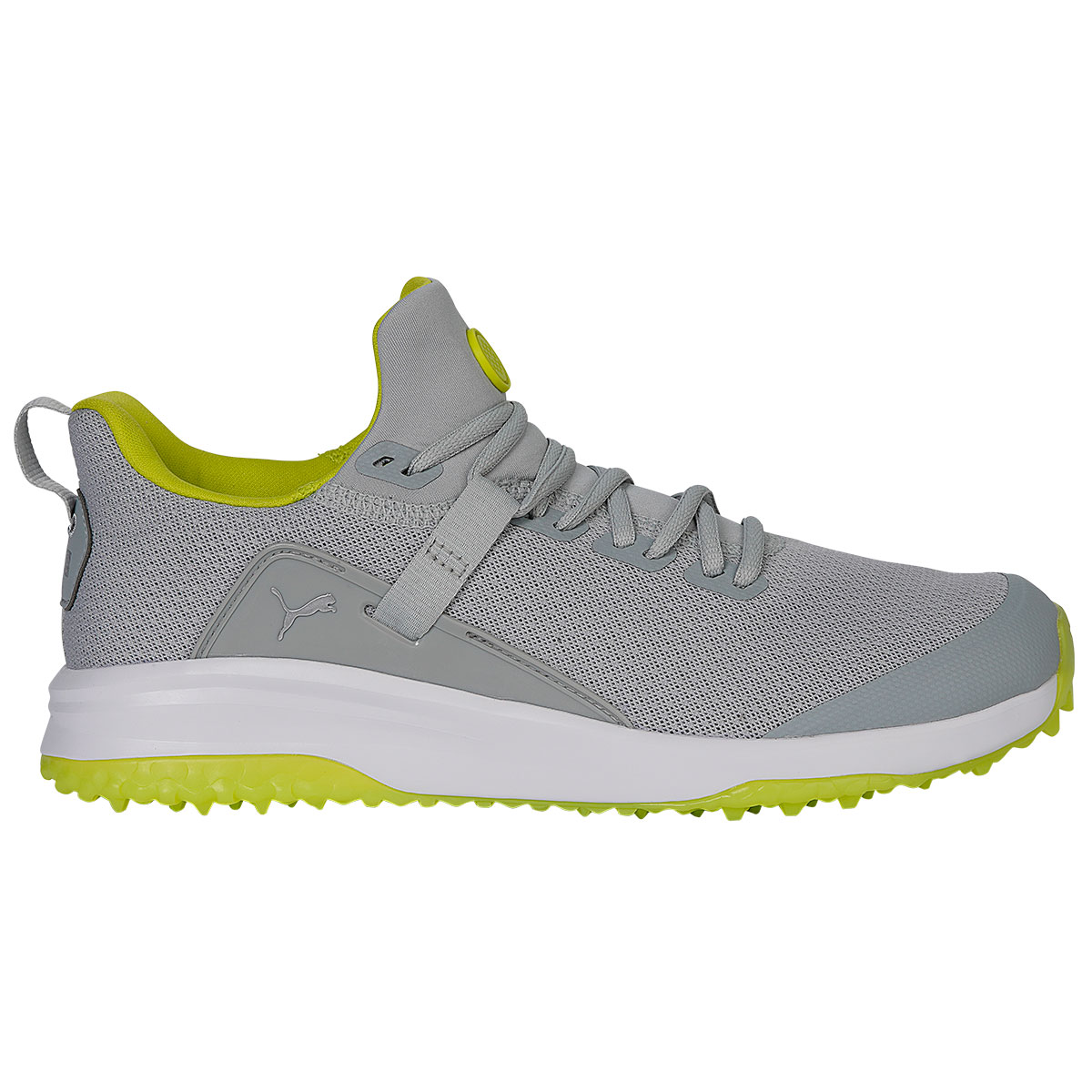 ---
· Colour Choice: Grey
· Sizes Available: 7 – 11
· Price: £££££
Reason to buy:
· Classic PUMA design
· Features FUSION Foam for added comfort
---
Who wants to channel their inner Rickie Fowler? Sure, Rickie's results have not matched his reputation in recent years, but the American has never been short of style on the course and neither would you be if you choose these. It has the classic PUMA design, and the two colours are bright cobalt (blue) and lime punch (green) on a high-rise shoe, keeping you on trend with the latest high street trainers. These score best with customers on comfort and value for money and it's no surprise given that features like FUSION Foam and a Mesh Upper are designed to go the extra mile in terms of comfort.
---
Fazer Men's Explorer Waterproof Golf Shoes (£39.99)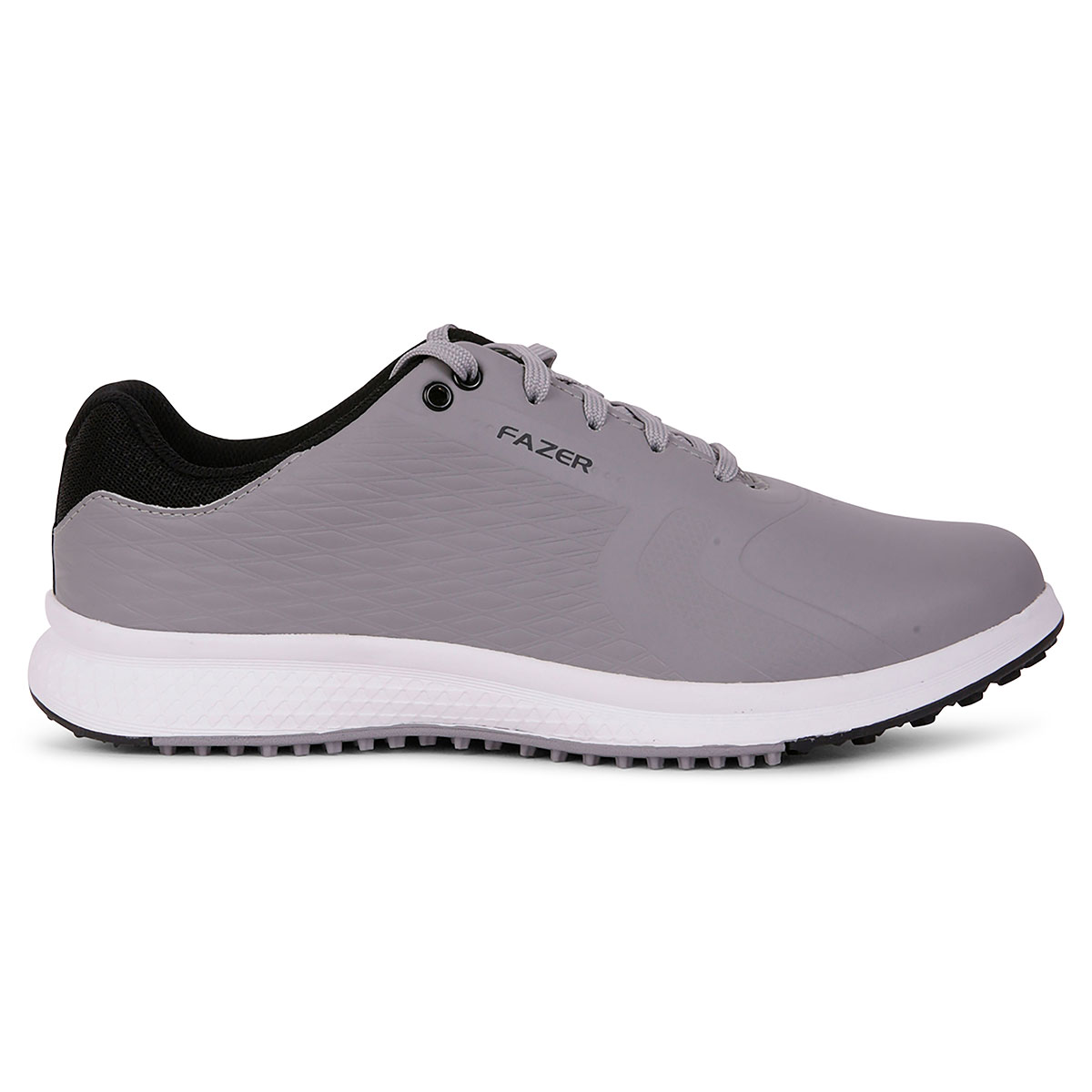 ---
· Colour Choice: Grey
· Sizes Available: 7 – 11
· Price: £££££
Reason to buy:
· 1-Year Waterproof Guarantee
· lightweight EVA cushioning
· Spikeless traction system
---
The final one of Fazer's three shoes that have featured in our list of the best budget golf shoes is the Explorer range. This comes in a trendy grey, steering away from the traditional white or black shoes that have dominated the market down the years. The word that keeps coming back from customers over this product is 'comfortable' – a delight for any golfer up on his feet for those rounds of 18 holes. Continuing with the modern trend of being a spikeless shoe, it offers the essential waterproof protection and cushioned insole to get that winning formula of dry, happy feet. The Explorer also comes in at a great price, which makes a huge difference in these times of inflation and that is no bad thing.
---
Ellesse Men's Shore Spikeless Golf Shoes (£34.99)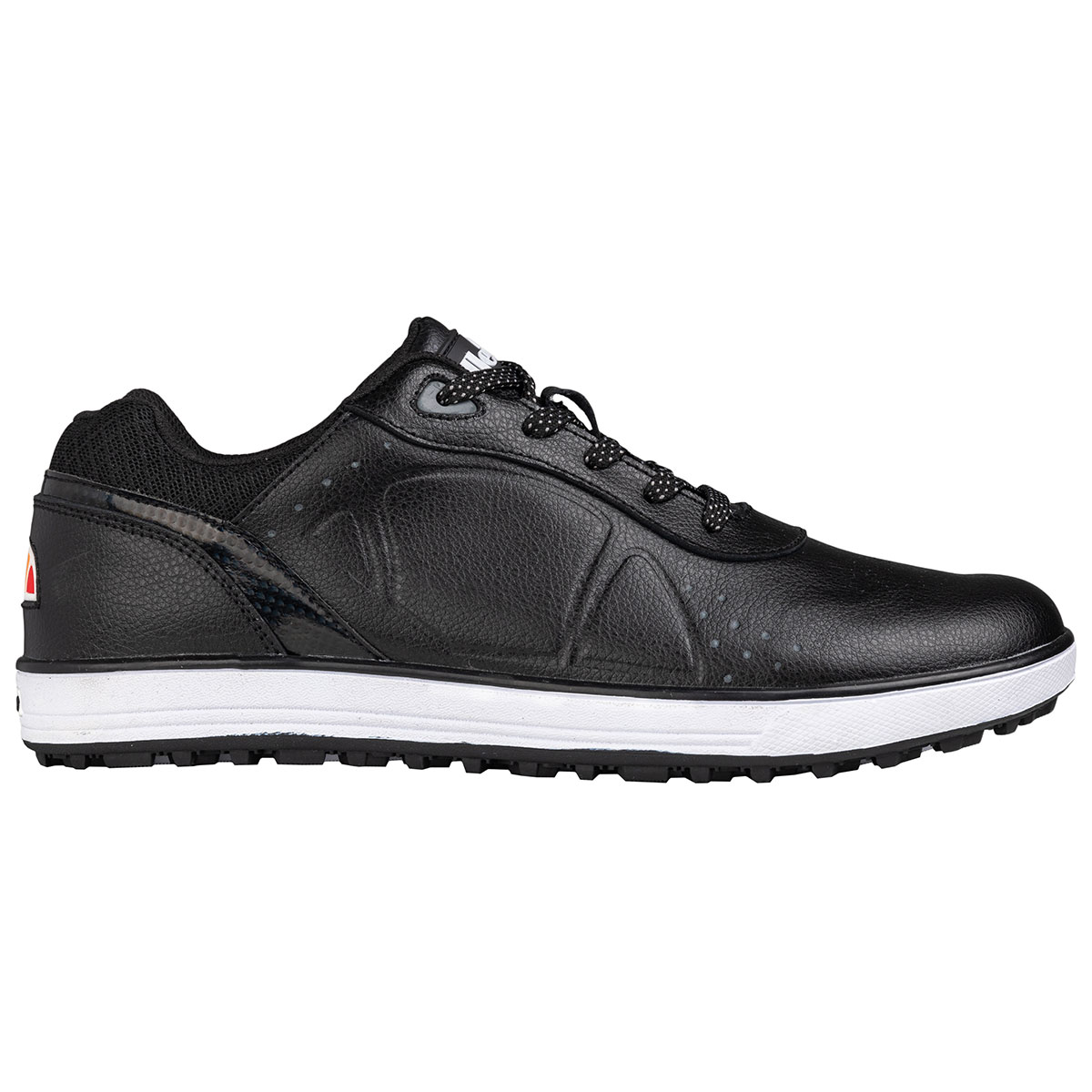 ---
· Colour Choice: Black
· Sizes Available: 7
· Price: £££££
Reason to buy:
· Memory Foam Insock
· EVA Outsole
· waterproof Leather
---
Who wants a pair of great-value Italian loafers on their feet? Then look no further than these Ellesse Shore Spikeless golf shoes. You may have worn Ellesse gear back in the late nineties or early noughties, but the Italian brand is now into golf and these shoes are an excellent option, certainly ticking the box on price in terms if you're looking for a pair of budget golf shoes. Available in a two-tone white and black or a simpler black design with a white trim, these have the look of the modern golf shoe. Passable away from the course as much as on it, they really do the job. Comfort rates very highly amongst customers, while as we approach the winter months and squelching around wet courses, the waterproofed leather upper and waterproofed gusseted tongue offer the protection a golfer needs against that winter nightmare – wet feet!
---
The Best Budget Golf Shoes for Ladies in 2022
GOLFINO Ladies Urban Classic Shoes (£79.99)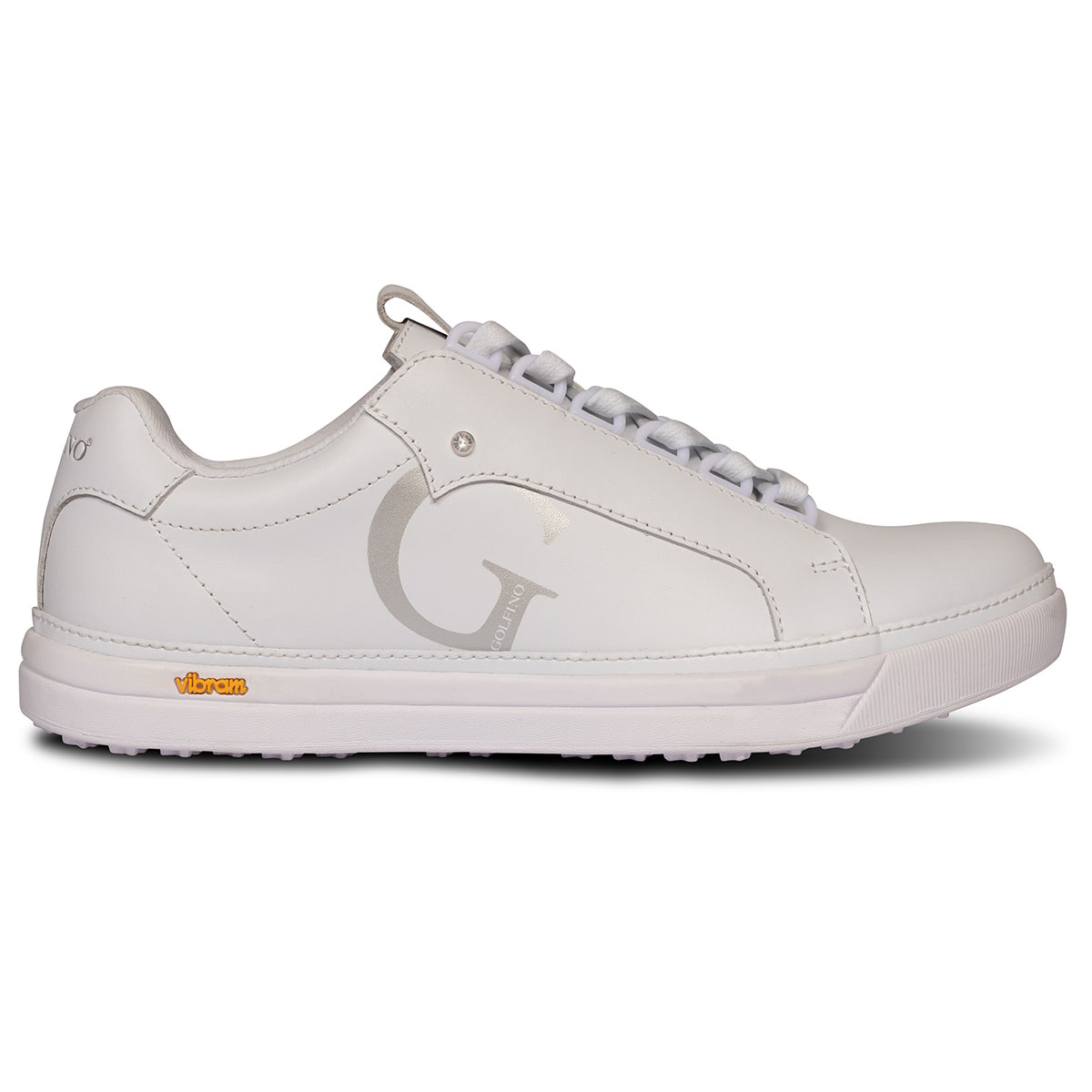 ---
· Colour Choice: Black, Pink & White
· Sizes Available: 4 – 8
· Price: £££££
Reason to buy:
· one-year waterproof guarantee
· Vibram ECOSTEP outsole for better grip
· moulded Ortholite footbed for Superior Cushioning
---
For the discerning female golfer wanting to combine good value with a name that exudes class, this shoe could be the one for you. Quite simply, GOLFINO equals style. And here is a pair of shoes that would be perfect, not just for golf but for about town as well, whether that is nipping to the shops or meeting friends for coffee. They come with a one-year waterproof guarantee and have a Vibram ECOSTEP outsole, which makes them more durable and offers an improved grip on both wet and dry surfaces. Equipped with a moulded Ortholite footbed, this gives you more energy return, superior cushioning and reduces the chances of fatigue during the many hours of playing golf – never a bad thing!
These GOLFINO shoes come in any of navy, pink or white depending on which you prefer and another big plus, they are easy to clean. So there are no excuses not to look the part every time you step onto the first tee!
---
Under Armour Ladies Charged Breathe Golf Shoes (£69.99)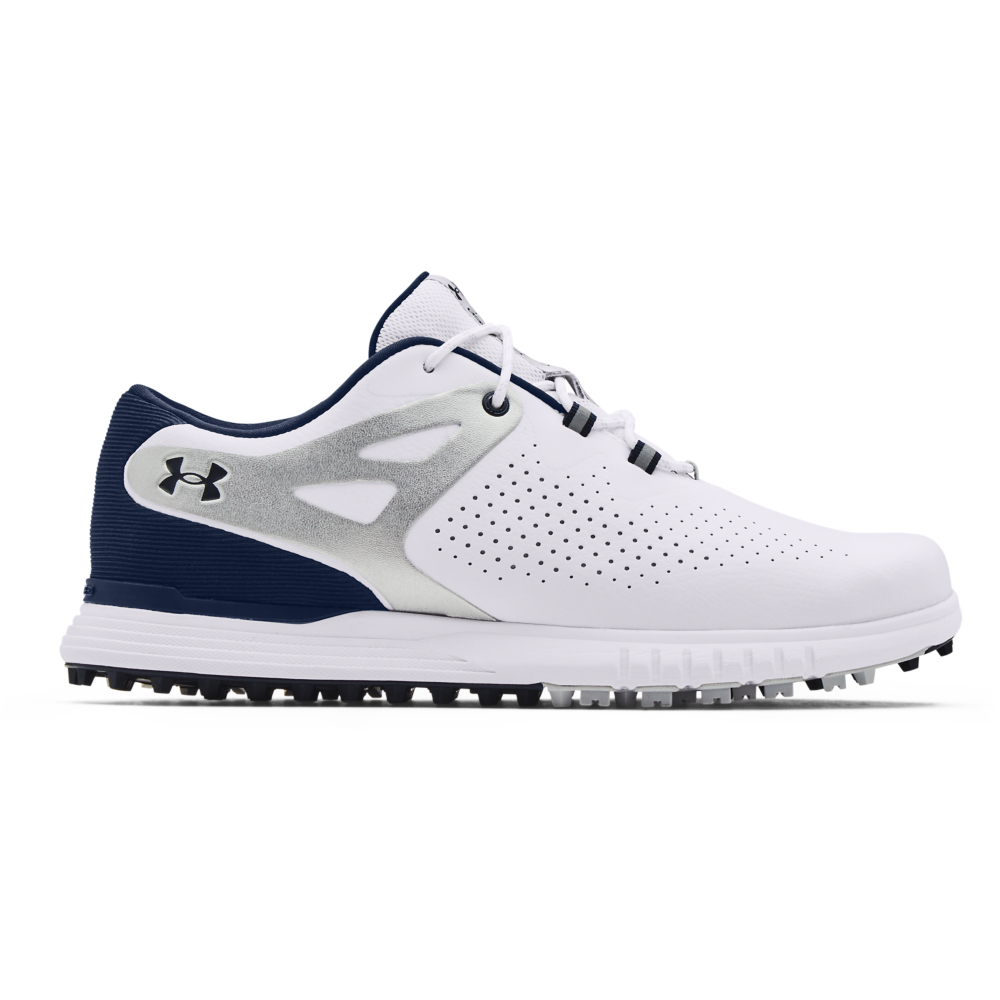 ---
· Colour Choice: Blue & Tangerine
· Sizes Available: 3 – 7
· Price: £££££
Reason to buy:
· UA Rotational Resistance Outsole
· 12 Months Warranty
· lightweight foam midsole to increase comfort
· Treated to provide a water-resistant barrier
---
Another fantastic option here for any female golfer with this latest offering from Under Armour. Predominantly white in design, one has a subtle academy blue while the other has a bolder electric tangerine hue. They have the appearance of a more classical golf shoe, as opposed to some of the more modern designs. Satisfied customers are enjoying the comfort, style and price of these golf shoes. Spikeless, they offer lightweight traction and a lightweight foam midsole to increase comfort. While just as importantly, their leather upper has been treated to provide a water-resistant barrier, as nothing stops your enjoyment of a round of golf more than feeling like you have stepped into the bath with your socks on when there is a long way to go before you reach the sanctuary of the clubhouse.
---
Stromberg Ladies Mia Waterproof Spikeless Golf Shoes (£69.99)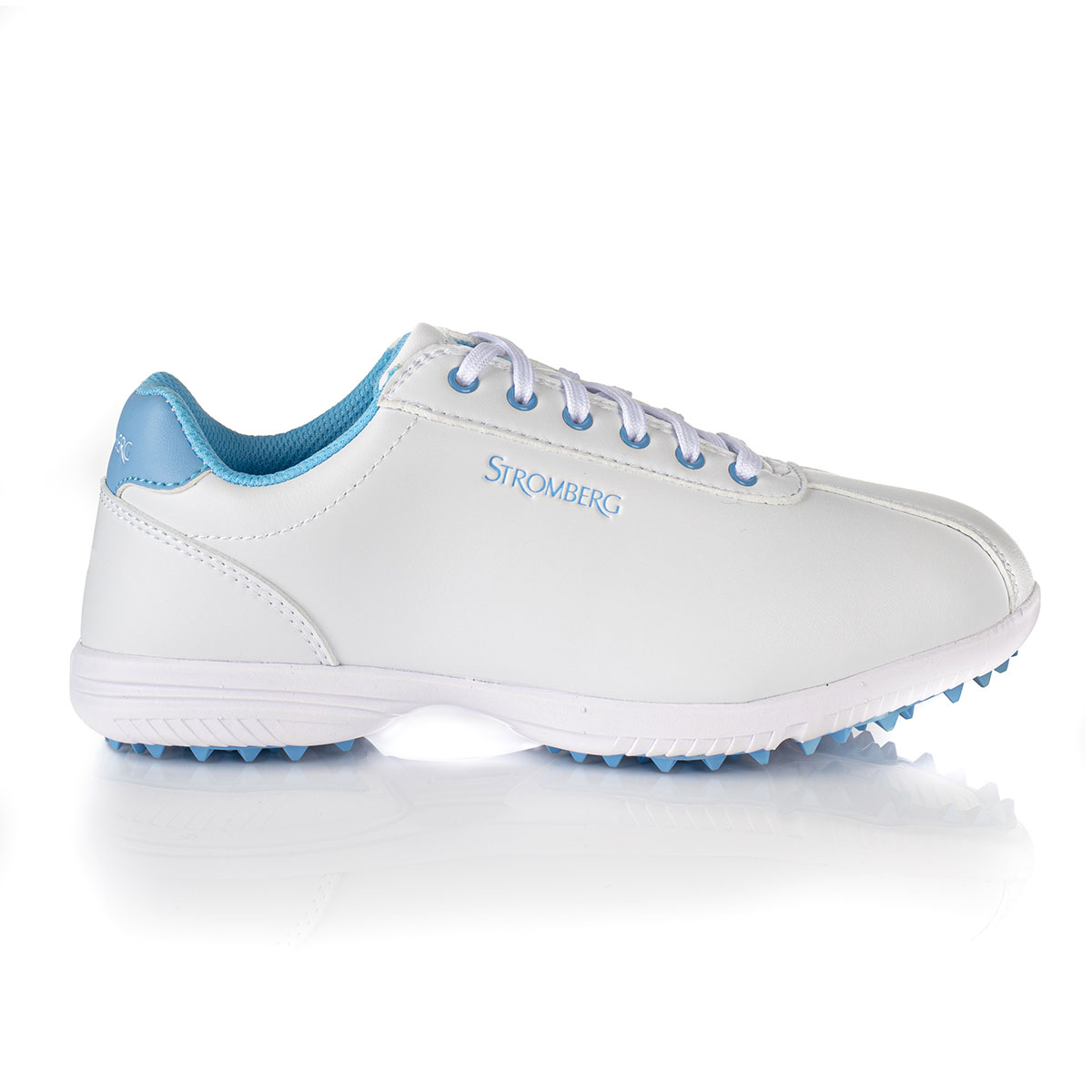 ---
· Colour Choice: White
· Sizes Available: 4 – 8
· Price: £££££
Reason to buy:
· 1-Year Waterproof Guarantee
· waterproof microfibre upper
· EVA cushioned insole
---
This also represents an excellent choice. White, with a soft baby blue lining, this looks like a lovely shoe, sleek and stylish, and it has the substance to back up the first impression. As the title of the shoe says, there is the manufacturer guarantee of a waterproof microfibre upper to keep you dry at all times, while an EVA cushioned insole is just the trick for remaining comfortable when on your feet for a long time. Going down the Spikeless route, these Stromberg shoes would look just as at home out on the course or out to lunch, thanks to a durable outsole.
---
About the Author
Adam Lanigan – Golf Writer
Adam is a freelance news and sports journalist who has written for the BBC, The Sunday Post, The I, The Times, The Telegraph and more. He has been writing about golf for nearly two decades and has covered 13 Open Championships and two Ryder Cups. Not only does Adam cover golf, but he has played golf for as long as he can remember. He was a member at Northenden Golf Club for around 25 years until his children arrived and his last official handicap was 11, although on any given day his form fluctuates anywhere between eight and 18.