British long jumper Abigail Irozuru has said "we need to achieve inclusion in a way that is fair" after World Athletics' decision to ban transgender women from competing in the female category at international events.
The governing body has introduced the ban while it sets up a working group to research eligibility guidelines.
"It's important trans athletes are part of the working group," Irozuru said.
However, there are no transgender women competing at international level.
This has led to some questioning the value and merit of the research, including Loughborough University researcher, author and athlete Joanna Harper.
Irozuru, however, believes the ban is the right decision.
"[It's important] to see how we can make this more effective and cohesive because inclusion is important," she said.
"We don't want people not to be able to participate in sport but we need to do it in a way that is fair, protects the integrity of the sport and that follows the science regarding testosterone and biology, and how that is going to impact a person's performance, whether they are born male or female."
On the feasibility of having a separate transgender category in elite sport, she added: "I think there is always going to be a challenge with feasibility with anything. It is like a start-up business.
"When you think about the Para-categories that exist, they are for disability athletes or for those with intellectual disabilities.
"Maybe initially there was not that much feasibility but they have grown. I think it is about creating the space so people can enter that space and grow with it."
Previously, World Athletics rules stated transgender women needed to reduce their blood testosterone level to a maximum of 5nmol/L and stay under this threshold continuously for a period of 12 months before competing in the female category.
World Athletics says the working group will be in operation for 12 months to "further consider the issue of transgender inclusion".
UK Athletics has said it is "fully considering the details" of the decision and how it may impact on competition in the UK but added "we support and welcome the direction they have taken in protecting the female category".
UK Athletics wants a change in legislation to ensure the women's category is lawfully reserved for competitors who are recorded female at birth, arguing that all transgender athletes should be allowed to compete with men in an open category.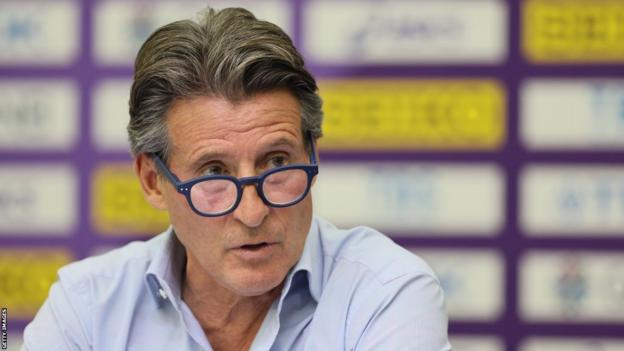 The governing body's president, Lord Coe, has said the change of rule came to "protect the female category".
He said: "We will be guided in this by the science around physical performance and male advantage which will inevitably develop over the coming years. As more evidence becomes available, we will review our position, but we believe the integrity of the female category in athletics is paramount."
Loughborough University researcher and athlete Harper, who is a transgender woman herself, says she is fearful more data will be hard to come by now trans athletes have been banned from the female category.
"For the past 12 years World Athletics have been allowing transgender women to compete in international competition if they lower testosterone," she told BBC Radio 5 Live.
"However, not a single transgender woman has qualified for international-level athletics in those 12 years. I think that tells you a lot. Trans women were not on the verge of taking over or threatening other women in World Athletics and not a single one had qualified.
"It's clear that trans women do maintain some advantage in many sports, but how much advantage isn't clear.
"It's certainly true that anyone that goes through male puberty has substantial athletic advantages over anyone who doesn't. The question is how many of those advantages get undone or largely undone by the hormonal therapy that trans women take?
"If World Athletics is really interested in getting more data, banning trans women from international athletics is not the way to get it."
'Disappointing' or 'a big step to fairness'? More reaction
Some former and current elite athletes have praised the announcement with British Olympian Emily Diamond, a 4x400m relay bronze medallist at Rio 2016, writing: "A big step for fairness and protecting the female category. Hopefully this will be the rule across all levels now, not just elite ranking events."
Amelia Strickler, the British shot putter who has called for protection of the women's category in athletics, tweeted: "I actually didn't think this would happen.
"A lot of people thanking me for the part I played in the decision, which is sweet but thank you for listening, for supporting women, and joining the fight. This is a big step in protecting women's sport."
Olympian Sharron Davies, a silver medallist in swimming at the 1980 Moscow Games, tweeted: "Sport is for all. But it must be safe, fair and then inclusive. Not the other way round. Let's have respectful debate and find places for everyone."
Stonewall, a LGBTQ+ charity, called the decision "disappointing" and tweeted: "We stand with trans people who now have the door closed on their chance to compete in athletic sports at an international level."
Cyclist Kristen Worley, a transitioned athlete who has legally challenged World Athletics' gender policies, said: "The most vulnerable are being excluded from sport more for political reasons and not based on science and research."