Explained briefly, scuba diving is a water sport that involves breathing air from a tank while underwater. Scuba is an acronym for Self Contained Underwater Breathing Apparatus.
Most scuba divers are recreational divers who explore underwater environments such as lakes, rivers, quarries, kelp forests and coral reefs. There are also people who scuba dive for work including public safety divers, marine biologists and many others.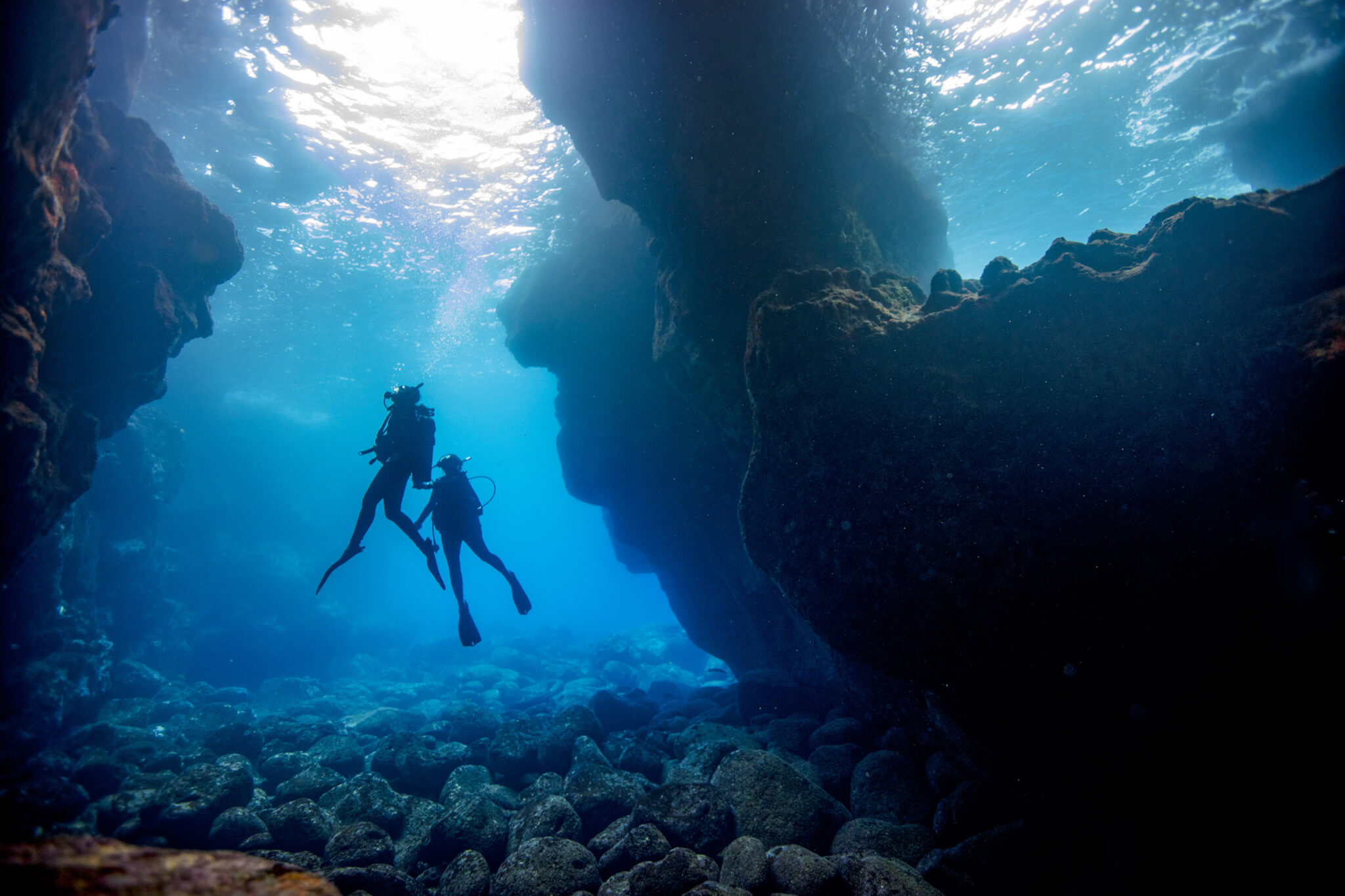 How is scuba diving done? 
There's more to scuba diving than just strapping a tank on your back and jumping in the water. It all starts with a dive plan. 
You might choose the dive site and invite friends, or a dive buddy might message you, "conditions are going to be great this weekend!" Either way, your plan should include diving with at least one other person in case anything goes wrong underwater. If you don't have a dive buddy, the local dive shop can help you find one.
Once you decide where you want to dive and for how long, you'll choose the appropriate scuba equipment. For example:
If you plan to make multiple dives, you'll want extra scuba tanks.
When diving in cold water, many divers wear a dry suit instead of a wetsuit to stay warm.
If the dive site is a shore dive, you may need a dive float.
Many divers own their own scuba gear and either rent tanks or get their tanks filled at a local shop. Others rent all their diving equipment. Watch this video to learn more about how scuba gear works.
When the dive day arrives, you'll check the dive conditions one more time. If everything looks good, you'll head to the dock or dive site with your gear.
What is scuba diving like? 
It's hard to explain what scuba diving feels like. The best way to find out is to try it for yourself. If you're not ready to enroll in a scuba certification class, try a Discover Scuba Diving® Experience. In a pool or calm water environment, you'll take your first breaths underwater under the guidance of a PADI Scuba Instructor or Divemaster.
A Discover Scuba Experience allows you to try scuba diving under the guidance of a dive professional, but if you want to dive independently with your friends, you'll need a scuba certification. In a scuba certification course, you learn basic scuba skills, safety procedures and other essentials.
A PADI® Open Water Diver certification is the world's most recognized scuba certification. Watch the video above to learn how to get scuba certified. Or read about the difference between Discover Scuba Diving and Open Water Diver.
Who can scuba dive?
Scuba diving is open to anyone eight years old or older who is comfortable in the water. At age ten, kids can earn a Junior Open Water certification. There is no upper age limit.
To learn to dive you must have basic swimming skills and no underlying health conditions. People of all abilities can scuba dive, including individuals with paraplegia, amputations, or other physical challenges.
Is scuba diving safe?
With the right training, scuba diving is considerably safer than other popular activities. Statistics show you're more likely to get injured fishing, playing golf, snowboarding or even bowling than scuba diving. The most common medical issues associated with scuba diving are sunburn, seasickness, and dehydration (all of which are preventable).
One of the biggest myths about scuba diving safety has to do with sharks. The truth is, in a list of animals most deadly to humans, sharks don't even rank in the top 10. There are more than 500 species of sharks and very few are ever aggressive toward humans. 
As a scuba diver, you'll start to see things through new eyes. Most divers think sharks are captivating creatures, not something to be feared!
Experience Life Unfiltered
Scuba diving is one of the few experiences where you can see fascinating animals in their natural habitat – authentic and unfiltered. When you immerse yourself in the world beneath the waves, you leave text messages and to-do lists behind. It's the perfect escape from the demands of the surface world.
If you're curious about learning how to scuba dive, you can start your scuba lessons online for free. Demo the online course as you learn about underwater hand signals and the critical role divers play in ocean protection. There's no credit card or discount code required­ – just sign in or create a new account to get started!
Take the first step to leading a more extraordinary life. Click the button below to get started.
Go Deeper