FIDE Candidates Chess Tournament 2022 (9)
Nepomniachtchi survives trouble in the opening to draw against Caruana in the Candidates Round 9
Mark Crowther – Monday 27th June 2022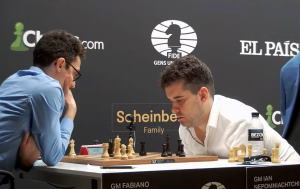 Caruana didn't make the best of an opening advantage against Nepomniachtchi. Photo © | https://fide.com
Fabiano Caruana got a chance to put Ian Nepomniachtchi under pressure and
even catch him after managing to surprise his opponent in the Petroff.
Nepomniachtchi was certain he had something against Caruana's idea
but didn't remember what it was. Nepomniachtchi fell about 50 minutes behind
on the clock but it was here Caruana began to slow down and then made a mistake.
You have to think the very long games Caruana has been playing and yesterday's
disappointment couldn't have helped but he needed to find 24.Bf1! after
24.Bxf5? he almost certainly missed 27…Nd3 ahead of times and after
this it was Caruana who had to be careful as he got into time pressure,
but the players repeated at move 40. Nepomniachtchi has a strong lead
now and while things can go wrong he's basically only got Caruana
to worry about.

Hikaru Nakamura went down to a dispiriting loss against Teimour Radjabov
who hasn't won a classical game in 37 games and three years. Nakamura specializes
in the Berlin played today but he just drifted into trouble and was outplayed.
13…Bg4 was maybe the start of problems and after 28…cxb4 white
was winning, Radjabov was under some time pressure but he was accurate
and brought home the full point.


Alireza Firouzja won a wild game against Richard Rapport. Firouzja gave
up a piece because he thought it was interesting (he might have had an
advantage another quieter way) but after an inaccuracy the result
was up in the air for a long time. 26…Bc4? was the final mistake
26…h6 after which it was just one way traffic as black was completely
tied up.


Ding Liren was another relieved man when he defeated Jan-Krzysztof
Duda after a losing blunder on move 40. At first Duda was drawing
too much and now he's losing, he'll need to try and restart after
the rest day as three losses in four games is close to freefall.


Round 9 Standings:
1 Nepomniachtchi 6.5pts,
2 Caruana 5.5pts,
3 Nakamura 4.5pts,
4 Ding Liren 4.5pts,
5 Radjabov 4pts,
6 Firouzja 4pts,
7 Rapport 4pts,
8 Duda 3pts.




Rest Day Tuesday 28th June.


Round 10 pairings Wednesday 29th June;
Rapport-Ding, Duda-Caruana, Nepomniachtchi-Radjabov and Nakamura-Firouzja.
FIDE World Chess Championship Candidates Round 9 Candidates


FIDE Candidates 2022 Madrid ESP (ESP), 16 vi-5 vii 2022
cat. XXI (2772)




1

2

3

4

5

6

7

8

1.

Nepomniachtchi, Ian

g

RUS

2766

*

*

½

½

½

.

1

½

½

.

1

.

1

.

1

.

6½

2943




2.

Caruana, Fabiano

g

USA

2783

½

½

*

*

1

0

½

.

1

.

1

.

½

.

½

.

5½

2848




3.

Nakamura, Hikaru

g

USA

2760

½

.

0

1

*

*

½

.

1

0

½

.

½

.

½

.

4½

2772




4.

Ding, Liren

g

CHN

2806

0

½

½

.

½

.

*

*

½

.

½

.

½

.

½

1

4½

2765




5.

Radjabov, Teimour

g

AZE

2753

½

.

0

.

0

1

½

.

*

*

½

½

½

.

½

.

4

2732




6.

Firouzja, Alireza

g

FRA

2793

0

.

0

.

½

.

½

.

½

½

*

*

½

1

½

.

4

2723




7.

Rapport, Richard

g

HUN

2764

0

.

½

.

½

.

½

.

½

.

½

0

*

*

½

1

4

2729




8.

Duda, Jan-Krzysztof

g

POL

2750

0

.

½

.

½

.

½

0

½

.

½

.

½

0

*

*

3

2652









Round 9 (June 27, 2022)




Caruana, Fabiano

– Nepomniachtchi, Ian

½-½

40

C42

Petroff's Defence




Ding, Liren

– Duda, Jan-Krzysztof

1-0

61

A13

Reti Opening




Radjabov, Teimour

– Nakamura, Hikaru

1-0

41

C65

Ruy Lopez Berlin




Firouzja, Alireza

– Rapport, Richard

1-0

41

C65

Ruy Lopez Berlin











View the games on this Page
Download the PGN from this page

vs