FIDE Candidates Chess Tournament 2022 (8)
Nepomniachtchi in charge after Round 8 of the Candidates
Mark Crowther – Monday 27th June 2022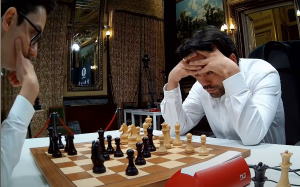 Nakamura put himself in the frame for at least second place by beating Caruana. Photo © | https://fide.com
Ian Nepomniachtchi took a short draw against Ding Liren with the white pieces in Round 8 of the the FIDE Candidates tournament in Madrid, this turned out to be a very sensible decision as he ended up extending his lead to a full point after his close rival Fabiano Caruana fell back after losing to fellow countryman Hikaru Nakamura in a sharp open Ruy Lopez.
Caruana has white against Nepomniachtchi in Round 9 but will be feeling depressed by his loss today and in addition it took many more hours to happen. If people wonder why players take quick draws in important events then this is why. If I'd been Caruana I wouldn't have gone to war today, not even in retrospect was this the key game, now he's lost ground and has to play the really important game tomorrow with many disadvantages. That said – Caruana wins tomorrow – that still change a lot in his favour. On the other hand if Caruana loses in an all or nothing game against Nepomniachtchi then the battle for first place probably ends or at least Nakamura assumes the role of distant challenger.

Richard Rapport beat Jan-Krzysztof Duda in a fluctuating game where Rapport seemed to lose the opening battle as white but later took over the position and Alireza Firouzja drew with Teimour Radjabov. Sorry for the very brief report but I decided that going to see my favourite band after two years of Covid was an important morale boost for me so I couldn't stay around for the finish of the round.


Round 8 Standings:
1st Nepomniachtchi 6pts,
2nd Caruana 5pts,
3rd Nakamura 4.5pts,
4th Rapport 4pts,
5th Ding Liren 3.5pts,
6th Duda 3pts,
7th Radjabov 3pts,
8th Firouzja 3pts.

Round 9 pairings Monday 27th June 2pm BST:
Firouzja-Rapport, Radjabov-Nakamura, Caruana-Nepomniachtchi, Ding Liren-Duda.


FIDE World Chess Championship Candidates Round 8 Videos


FIDE Candidates 2022 Madrid ESP (ESP), 16 vi-5 vii 2022
cat. XXI (2772)




1

2

3

4

5

6

7

8

1.

Nepomniachtchi, Ian

g

RUS

2766

*

*

½

.

½

.

1

.

1

½

1

.

½

.

1

.

6

2969




2.

Caruana, Fabiano

g

USA

2783

½

.

*

*

1

0

½

.

½

.

½

.

1

.

1

.

5

2864




3.

Nakamura, Hikaru

g

USA

2760

½

.

0

1

*

*

½

.

½

.

½

.

1

.

½

.

4½

2817




4.

Rapport, Richard

g

HUN

2764

0

.

½

.

½

.

*

*

½

.

½

1

½

.

½

.

4

2770




5.

Ding, Liren

g

CHN

2806

0

½

½

.

½

.

½

.

*

*

½

.

½

.

½

.

3½

2723




6.

Duda, Jan-Krzysztof

g

POL

2750

0

.

½

.

½

.

½

0

½

.

*

*

½

.

½

.

3

2686




7.

Radjabov, Teimour

g

AZE

2753

½

.

0

.

0

.

½

.

½

.

½

.

*

*

½

½

3

2689




8.

Firouzja, Alireza

g

FRA

2793

0

.

0

.

½

.

½

.

½

.

½

.

½

½

*

*

3

2679











Round 8 (June 26, 2022)




Nepomniachtchi, Ian

– Ding, Liren

½-½

37

C47

Four Knights




Nakamura, Hikaru

– Caruana, Fabiano

1-0

74

C82

Ruy Lopez Open Italian Variation




Rapport, Richard

– Duda, Jan-Krzysztof

1-0

29

C46

Four Knights




Firouzja, Alireza

– Radjabov, Teimour

½-½

93

C50

Giuoco Piano











View the games on this Page
Download the PGN from this page

vs