FIDE Candidates Chess Tournament 2022 (11)
Nepomniachtchi and Ding win in Candidates Round 11 and are in first and second places
Mark Crowther – Thursday 30th June 2022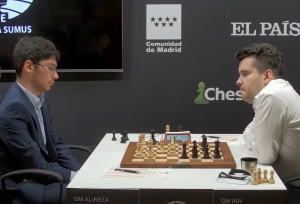 Firouzja really did not play well against Nepomniachtchi. Photo © | https://fide.com
Ian Nepomniachtchi won his fifth game of the Candidates beating Alireza Firouzja in
the eleventh round of the FIDE Candidates in Madrid. The story of this game even
early on was that Firouzja was up all night playing hyper bullet 30 second chess
on the Internet. I'm afraid his reckless play today showed all the signs of him
doing precisely that. 16.g4 is dubious, 17.h4? is bad and 18.g5 leaves white flat
lost. Of course it required skill from Nepomniachtchi to make the refutation look
easy but the in form Russian had no problems whatsoever. Nepomniachtchi is still
in complete control of the tournament three draws, likely only two, will win him the event.

The final game to finish ended Fabiano Caruana's World Championship hopes for good
and saw Ding Liren win his third game in a row. As I implied yesterday I thought
Caruana's race was run, even for second place. He's tired and upset the way things
have gone and today was about as bad as it gets in losing a game. Caruana played
a sharp Ruy Lopez Anti-Marshall. Caruana buried his knight on g7 but quite what
it was doing there fianchettoed as it was in Ding's position I don't know.
Ding was then better for a while before blundering a tactic at the end of the
sequence starting with 30…exf4? Then it was Caruana then pressing for a win, but
nothing clear came along and even when Ding clearly miscalculated again
50.Qf3 wasn't fatal. Caruana himself blundered with 57.Be3 putting himself
under serious pressure, more errors followed 65.Bf2? (instead of 65.Bd4 equalising) 72. Rc3?
when 72…Bd3 wins for Ding (he played 72…Rd7) but it didn't matter, Caruana gave another chance
75.Bc7? and that was finally enough to lose the game. Caruana fled the playing hall, I could
not feel sorrier for him. He's put far more effort and moves into this event than anyone else and it's been
too much – some of that's been bad luck, some of that's been the kinds of battles he's chosen to play.
He's World Class but he needs to find a different way to fight the next Candidates.
Now Ding is in clear second place, first place looks out of reach but second may be enough
for a title match if Carlsen doesn't play as previously discussed.


Teimour Radjabov against Jan-Krzysztof Duda was a quick draw. Hikaru Nakamura against
Richard Rapport was a slower draw but without any real chances for either side either.


Round 11 Standings:
1 Nepomniachtchi 8pts (TB1 40.25),
2 Ding Liren 6.5pts (TB1 33.25),
3 Nakamura 6pts (TB1 30.5),
4 Caruana 5.5pts (TB1 30.75),
5 Radjabov 5pts (TB1 28),
6 Duda 4.5pts (TB1 23.75),
7 Rapport 4.5pts (TB1 23.25),
8 Firouzja 4pts (TB1 20.25).


Round 12 1st July 2pm BST:
Rapport-Caruana
Ding Liren-Radjabov
Duda-Firouzja
Nepomniachtchi-Nakamura
FIDE World Chess Championship Candidates Tournament Round 11 Candidates


FIDE Candidates 2022 Madrid ESP (ESP), 16 vi-5 vii 2022
cat. XXI (2772)




1

2

3

4

5

6

7

8

1.

Nepomniachtchi, Ian

g

RUS

2766

*

*

1

½

½

.

½

½

½

½

1

.

1

.

1

1

8

2951




2.

Ding, Liren

g

CHN

2806

0

½

*

*

½

.

½

1

½

.

½

1

½

1

½

.

6½

2831




3.

Nakamura, Hikaru

g

USA

2760

½

.

½

.

*

*

0

1

1

0

½

.

½

½

½

1

6

2809




4.

Caruana, Fabiano

g

USA

2783

½

½

½

0

1

0

*

*

1

.

½

0

½

.

1

.

5½

2770




5.

Radjabov, Teimour

g

AZE

2753

½

½

½

.

0

1

0

.

*

*

½

½

½

.

½

½

5

2735




6.

Duda, Jan-Krzysztof

g

POL

2750

0

.

½

0

½

.

½

1

½

½

*

*

½

0

½

.

4½

2710




7.

Rapport, Richard

g

HUN

2764

0

.

½

0

½

½

½

.

½

.

½

1

*

*

½

0

4½

2709




8.

Firouzja, Alireza

g

FRA

2793

0

0

½

.

½

0

0

.

½

½

½

.

½

1

*

*

4

2663









Round 11 (June 30, 2022)




Nakamura, Hikaru

– Rapport, Richard

½-½

96

B33

Sicilian Sveshnikov




Caruana, Fabiano

– Ding, Liren

0-1

78

C88

Ruy Lopez Closed




Radjabov, Teimour

– Duda, Jan-Krzysztof

½-½

33

A15

English counter King's Fianchetto




Firouzja, Alireza

– Nepomniachtchi, Ian

0-1

35

C42

Petroff's Defence











View the games on this Page
Download the PGN from this page

vs