The Lichess paths to qualify into the FIDE World Fischer Random Championship – to be held in Reykjavik from 25 – 30 October later this year – are well underway.
-> See if you qualified already.
-> Find an event in the calendar that you can take part in. 
-> Enjoying Chess960? Join the official Lichess Chess960 team, and access all learning resources for free.
We're now just over halfway through the open arena stages where anyone can take part. The top 50 eligible players from each open arena qualify through to two invitational arenas. The top 500 players from each invitational arena will progress to the Swiss stage.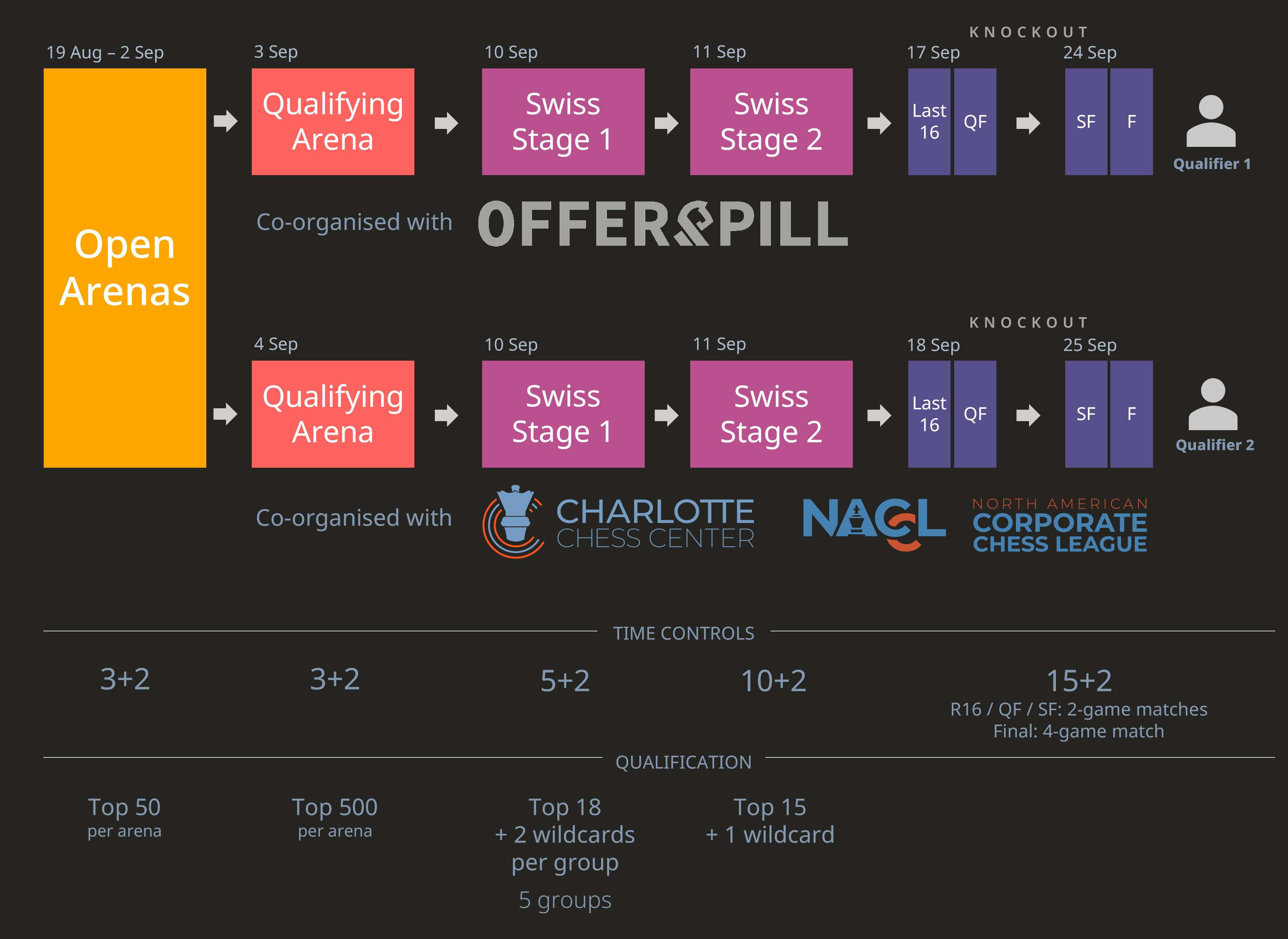 Titled players will automatically be seeded in to the invitational arenas; they do not need to qualify through an open arena. Players who qualified through an open arena can play either invitational arena (or both) to try and make it to the top 500. If a player plays in both invitational arenas and qualifies in both, whichever invitational arena they first made the top 500 in, will be the path they must stick with at the Swiss stage and onwards.
One invitational arena, co-organised with Offerspill Sjakklubb, will be held on 3rd September 2022 from 14:00 – 18:00 UTC. 
One invitational arena, co-organised with Charlotte Chess Center and the North American Corporate Chess League, will be held on 4th September 2022 from 17:00 – 21:00 UTC. 
Bear in mind that these times will most likely be the same, or similar, for the Swiss stage and beyond.
At the halfway mark, what are some of the statistics from the tournaments?*
Frequently Asked Questions (FAQs):
I'm a titled chess player and my name isn't appearing on the list of players who have qualified to the invitational arena. Why is my name not appearing?

All players that Lichess has recognised as holding a FIDE title earned in OTB events, and certain national titles, are automatically qualified to the invitational arenas. You do not need to play the open arenas, but we recommend the additional practice they may give you!

You can ask Lichess to recognise your title, if we haven't already.

A titled player took part in our arena, and I came 51st. Will I still qualify anyway?

Yes. A titled player finishing in the top 50 will simply be ignored, as they have already qualified. The next highest finisher who is eligible will be selected in their place. For example, if five titled players took part and finished in the top 50, players ranked 51 – 55 would qualify, assuming other conditions for eligibility were met (e.g., fair play, compliance with rules on flags, etc).

Someone who already qualified has played again and made it to the top 50. Have they taken a qualifier space away from someone else?

No. Once you have qualified, you cannot qualify again. You will just be playing for fun, and for practice. Much like a titled player playing, they will not take another player's qualifier spot either. It will pass on to the next highest ranked eligible player.

I'm not titled, but still not appearing in the list of qualified players – what could cause this?

Your account may not be in good standing, or allowed to take part in prize events on Lichess. Also, remember that in accordance with FIDE's rules, accounts that display the official Russian or Belarussian flags on their profile page won't be allowed to advance to the next stage. So if this applies to your account and you want to take part, make sure you change your profile flag to something else as soon as possible. Otherwise your account won't appear in the list.

How will we know to access the invitational arenas? Where can I find them?

You have to do nothing once you have qualified. When we have the final player lists, you will be automatically added to a team. Only those players in the invitational arena will be able to access this team. You will receive a Lichess message giving you the link to the invitational arena, so keep an eye on your Lichess inbox. It will also be on the invitational arena team page, and the tournament calendar. It will also be shown on the Lichess homepage 24 hours before the arena is due to start.

Is the qualifier list final?

The qualifier list is not final until the invitational arenas have started. Until then, ongoing eligibility checks will be carried out, which may change the qualifier list. Where possible, we will add the next highest placed finisher from the relevant arena to the qualifier list, but we cannot guarantee this in all circumstances.

Can I only play in one invitational arena?

As long as you have come top 50 in an open arena, or are a titled player, you can play in either or both invitational arenas to make it to the top 500 and progress to the next stage. However, if you do make it to the top 500 in the invitational arena, you will be committed to either the Offerspill dates and timings for the next stages, or to the Charlotte Chess Center and North American Corporate Chess League dates and timings.