The twelfth round of the Candidates Tournament in Madrid has concluded. Ian Nepomniachtchi has all but mathematically sealed the win in this tournament with an easy draw today. He sits 2 points ahead of the field with 2 rounds remaining. The fight for second place, and the possibility of a hand-me-down World Championship spot from Magnus is nowhere near as resolved. Hikaru Nakamura and Ding Liren are currently tied for second place with Fabiano Caruana and Teimour Radjabov only a half-point behind.
Daily, Lichess is providing a broadcast of the games played in real-time. We also have a selection of annotated games by GM Ulvi Bajarani and video recaps by WGM-elect Jesse February.
Ian Nepomniachtchi – Hikaru Nakamura ½ – ½
You can't blame them, can you? Can you?!
This game was the now infamous fast Berlin draw. The pinnacle of GM draw technology, designed to be Sofia-rules resistant. I don't argue that this sort of thing is good for the event or for chess in general, I simply don't blame the players. Nepomniachtchi is now centimeters from qualifying for a World Championship match, and one more easy draw after this will put him through. Nakamura could have tried to win and still caught Nepomniachtchi in first place, but his better chances seem to be in aiming for second place and an apathetic Magnus. Wins are helpful for that goal too, but he may prefer to try to win against players who aren't currently dominating the tournament.
https://lichess.org/study/embed/ZfmMC2Gh/QwFlpGLA#28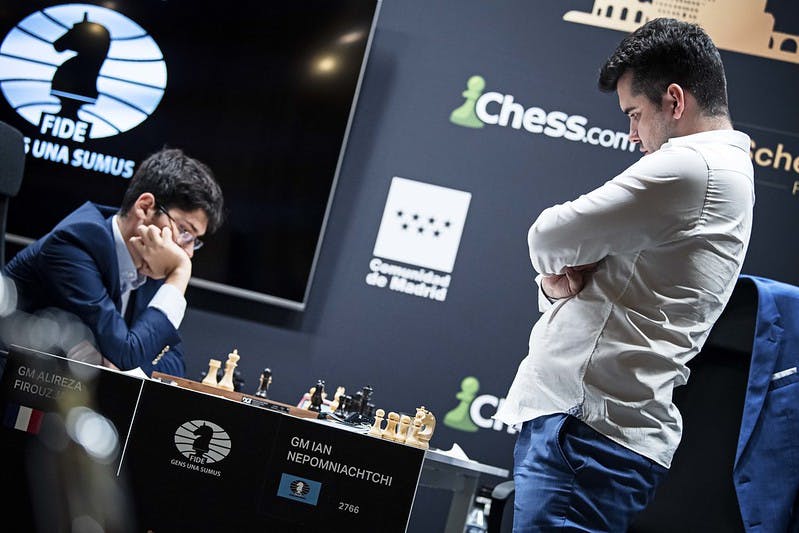 Credits: FIDE/Stev Bonhage
Liren Ding – Teimour Radjabov 0 – 1
The Nimzo-Indian isn't generally the sort of opening that gives you chances to blow your opponent off the board quickly, but it's the nature of the game that you're never too far from disaster, and a disaster this game was for Ding Liren. He seemed unprepared for the 8..Na6 line that Radjabov chose, and already had some problems around move 15. Ding put off castling to try and deal with those problems and eventually had to give up on the possibility entirely. Radjabov finished the game off in style with 21… Rxe3 and Ding resigned as soon as the game could no longer be called a "miniature," on move 26.
https://lichess.org/study/GOhAdjoj/2SAAyeil#15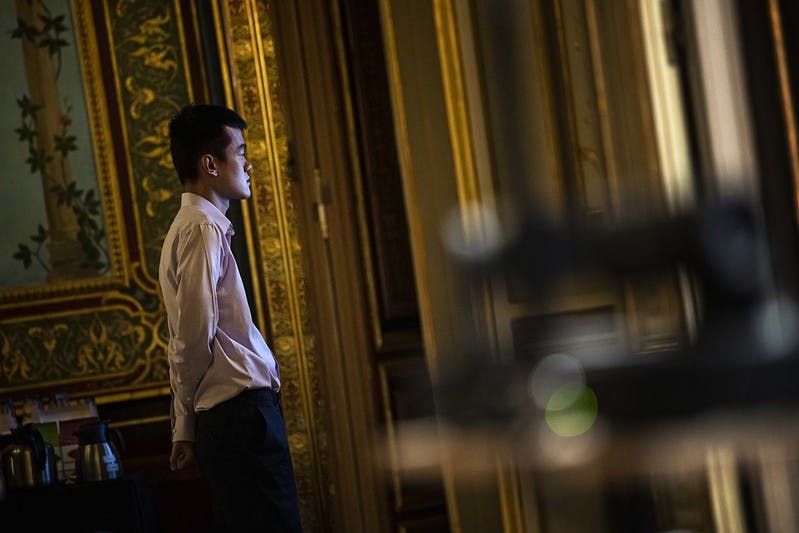 Credits: FIDE/Stev Bonhage
Richard Rapport – Fabiano Caruana ½ – ½
This game was another long maneuvering Berlin, which seems to be the most popular sort of game in this tournament. Rapport was getting the better of things but Caruana didn't crack and managed to find a tactical sequence that traded down to a drawn endgame. 
https://lichess.org/study/GOhAdjoj/lb35XbW6#18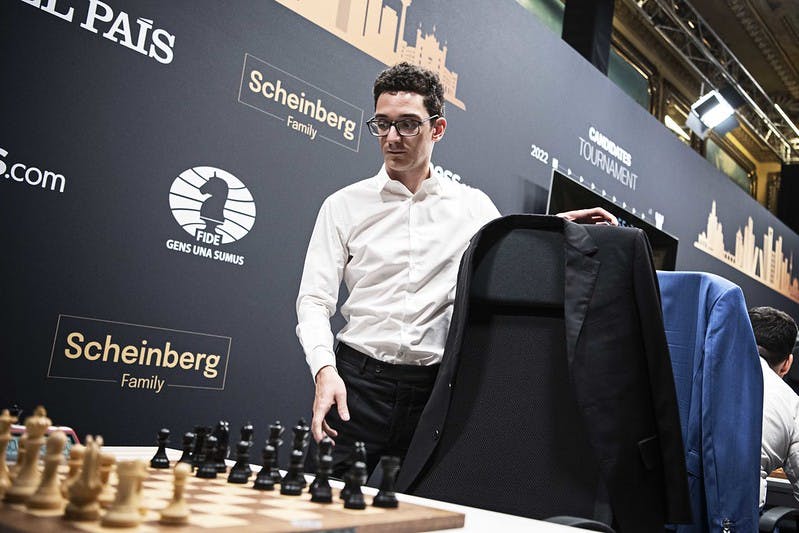 Credits: FIDE/Stev Bonhage
Jan-Krzysztof Duda – Alireza Firouzja ½ – ½
The only 2 players who are probably already eliminated from winning anything useful played each other in a bit of anti-serendipity. The opening was superficially exciting until you realize that the sacrifice played on move 17 has been played many times before and is generally agreed to be a draw.  Firouzja broke away from theory on move 22 and probably regrets it. It all seemed like a callback to Firouzja's game vs Nepomniachtchi where dubious kingside lunges only poked holes in his own position. However, Duda didn't manage the wild tactical positions that followed quite as well, and let the full point slip away. The players agreed to a draw on move 41.