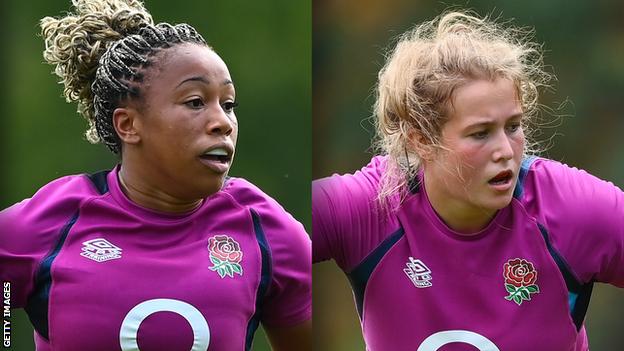 England's 20-year-old forwards Sadia Kabeya and Morwenna Talling are in a 32-player squad for the Rugby World Cup in New Zealand, starting on 8 October.
Flanker Kabeya has beaten 2014 World Cup winner Vicky Fleetwood to a place in the squad, with Sarah Beckett another back row player left out.
England have won a record 25 Tests in a row, are the number one side in the world and favourites to win the title.
"We've got to win it. That doesn't mean we will," said boss Simon Middleton.
"You look at Argentina [men] beating New Zealand for the first time, you look at Andy Ruiz knocking Anthony Joshua out.
"Everybody has a chance in sport. But what you've got to do is prepare your very best and try and deliver your best performance when it matters."
As expected, Sarah Hunter will continue as England captain as she makes her fourth World Cup appearance along with centre Emily Scarratt – two of six world champions in the group.

England Rugby World Cup squad
Forwards: Zoe Aldcroft, Sarah Bern, Hannah Botterman, Shaunagh Brown, Poppy Cleall, Amy Cokayne, Vickii Cornborough, Lark Davies, Rosie Galligan, Sarah Hunter, Sadia Kabeya, Laura Keates, Alex Matthews, Maud Muir, Cath O'Donnell, Marlie Packer, Connie Powell, Morwenna Talling, Abbie Ward.
Backs: Holly Aitchison, Jess Breach, Abby Dow, Zoe Harrison, Tatyana Heard, Leanne Infante, Ellie Kildunne, Claudia MacDonald, Sarah McKenna, Lucy Packer, Helena Rowland, Emily Scarratt, Lydia Thompson.

Youth favoured over experience
With 19 World Cup debutants in the squad, head coach Simon Middleton has opted for youth over experience in a number of areas and says he is "really confident with the balance".
World champion Natasha Hunt has been left out, with 22-year-old scrum-half Lucy Packer included instead.
Wing Abby Dow is also in after breaking her leg in April and is joined by fellow back three players Jess Breach, Ellie Kildunne, Sarah McKenna and Lydia Thompson.
Laura Keates – whose last England appearance was in November 2020 – is one of three tight-head prop options alongside Shaunagh Brown and Sarah Bern as Bryony Cleall is left out of the squad.
Centre Tatyana Heard is among the backs after her first England appearance in three years earlier in September as Amber Reed is overlooked.
Scrum-half Claudia MacDonald has returned from what looked like a career-ending injury just in time, with Leanne Infante currently the frontrunner to start at nine.
Zoe Harrison is the only out and out fly-half in the squad, with centres Holly Aitchison and Helena Rowland also able to provide cover at 10.
Talling's poultry power
Lock Talling would have missed out on the World Cup had it not been put back a year because of Covid-19.
She suffered an ACL injury in February 2021, but England's coaches kept in close contact with the talented forward.
Middleton has been an admirer of Talling's powerful play since before he gave her a first England cap in November 2020.
The Loughborough player says her strength is partly thanks to her childhood on a poultry farm.
"My dad claims that a lot," she jokes. "You've got to build on it, but I think it's always been there. I've always had that power."
Talling says she was "shocked" by her inclusion in the squad and Loughborough team-mate Kabeya said she screamed when she heard the news of her own place in the group.
The flanker took up rugby aged 14, switching her focus to the sport from athletics, and has risen rapidly through the England ranks in the past year.
"A year ago, if someone mentioned international rugby to me I would have laughed," she said.
"Even when I got pulled into pre-season last year, the coaches said at the end aim high, aim for the World Cup.
"In my head I was just laughing like, 'Do you know what they said to me Mum? They said the World Cup. Crazy.'"