Let's face it, we all like to look good at the beach. Functionality is important when it comes to choosing your swim shorts, but if they don't make you feel confident on the sand, what's the point? From swim trunks to board shorts, there's a lot of choice out there in the world of men's beachwear.
A simple internet search can sometimes leave you feeling overwhelmed with an overload of information. Luckily, we can guide you in the right direction of men's beachwear that is inclusive and comes from the best swimwear brand in the world.
In this article, we'll explain why men's beachwear has to incorporate accessibility. Then, we'll provide an easy-to-understand rundown of the different types of men's beachwear.
Why Men's Beachwear Should Be Versatile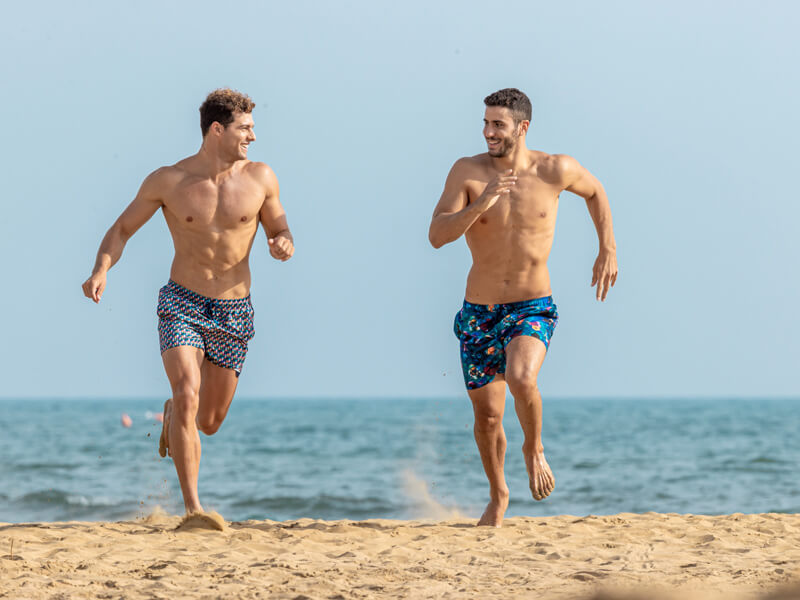 For a lot of people, the beach can be an alluring place that can help you get back into swimming. But, there's way more to going to the beach than just getting into the sea. Let's consider different activities on the beach to get an idea of how men's swimwear needs to perform.
Sunbathing 

Volleyball

Swimming

Camping

Windsurfing

Barbeques

Yoga

Partying

Paddleboarding
It's clear that a good pair of swim shorts must be able to accommodate various body movements, be comfortable, and deal with the onslaught of UV light and saltwater.
With all this swimming, sport, talking and walking, you need the right swimwear. The new arrivals and best sellers from arena are all built to last — with designs to turn heads too. Let's find out together what kind of men's beachwear is available and how to choose the right swimsuit for your body shape.
The Two Types of Men's Beachwear: Elasticated and Non-Elasticated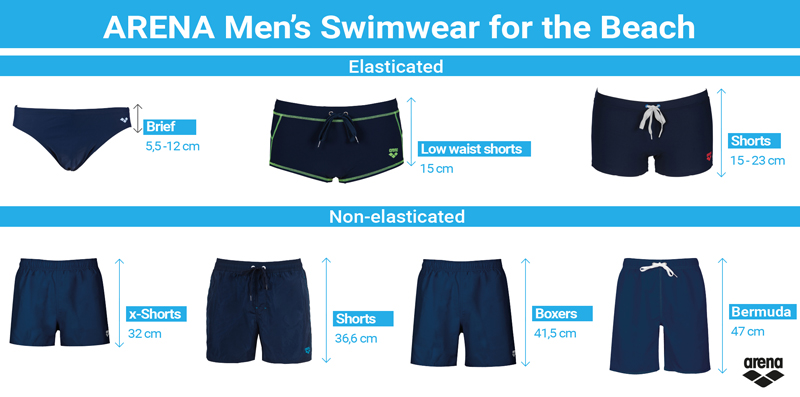 Choosing a men's swimsuit is not just a matter of looks. They come in different shapes and materials; finding the ideal swimsuit can make all the difference in terms of comfort.
There are two different categories of men's beachwear: elasticated and non-elasticated. The former are tight fitting and small in size. The latter are made of fabric (such as nylon, polyamide, microfiber, or polyester) and look more like shorts.
Elasticated Beachwear
When it comes to elasticated beachwear, you have three different style/length options:
Briefs:

These are the classic

swimwear

that are very popular in Europe. They are discreet, comfortable, and available in various different waist heights.

Low-waist shorts:

These shorts are bordering on being as short as briefs but are a little longer. They still expose most of your thighs with a length of just 15 centimeters (cm) or less.

Shorts:

Shorts are similar to high-fitting briefs, but with a longer length between 15 cm and 23 cm.
Non-Elasticated Beachwear
If choosing non-elasticated beachwear, here are your options:
X-shorts:

These are a shorter version of the classic shorts at just 32 cm.

Shorts:

These are a more casual type of

swimwear

with a length of 36.6 cm that fall just above the knee.

Boxers:

These are shorts that are somewhere between Bermudas and ordinary shorts in length. They are approximately 41.5 centimeters long.

Bermudas:

Really popular with surfers all over the world, these are soft, lightweight shorts that reach down to the knees. They are also available as long Bermudas, which are 50.5 cm.
Which Beachwear Is Right for Your Body Type?
Thankfully, our world is becoming more inclusive, and the men's beachwear industry is representing that change. No matter which body type you fit into, there will be a category of men's beachwear that will help you feel confident on the beach or poolside.
Once you know what type of beachwear is right for you, you can choose the color or print swim short you like best — such as logo swim shorts, multi-colored or floral print.
Tall and Muscular Body Type
Your body shape: You are tall, cut, and well-proportioned. You have a real sportsman's physique.
What to choose: From briefs to Bermuda shorts, any swimsuit looks good on you. Choose the right color for your skin tone. If you are light-skinned, choose bright colors. If you are darker-skinned, opt for colors that create a nice contrast. If you are very muscular, you may want to avoid briefs, and stick to mid-length shorts unless you're going for a bodybuilder look.
Here are two styles of arena men's beachwear you might like: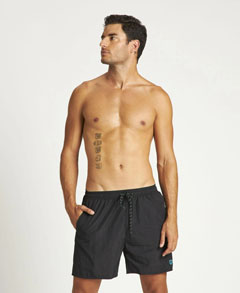 Tall and Slim Body Type
Your body shape: You have a slender body and are tall. Your legs are quite slim, and your shoulders are about the same width as your hips.
What to choose: Non-elasticated Bermuda shorts or ordinary shorts are good picks. Avoid briefs or swimwear that is too short or elasticated. They will make you look even taller and draw attention to your thin legs.
Here's a style of arena men's beachwear you might like: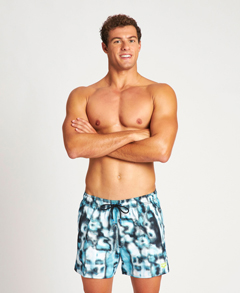 Tall and Stocky Body Type
Your body shape: You are tall and stocky.
What to choose: Bermuda swim shorts or ordinary shorts (elasticated or non-elasticated) are an ideal choice. Opt for plain colors or a simple pattern so that you look balanced.
Here's a style of arena men's beachwear you might like: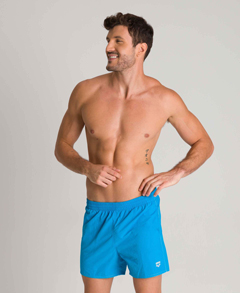 Short and Muscular Body Type
Your body shape: You have a shapely muscular body, but you are not very tall.
What to choose: The ideal swimsuit for you will make you look taller. Do not choose Bermuda shorts down to your knees. Briefs, X-shorts and shorts with a low waist that make your legs look longer and focus on your abs are a good option.
Here's a style of arena men's beachwear you might like: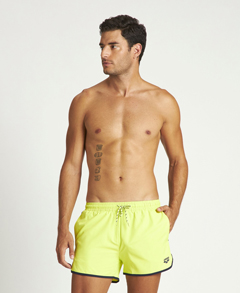 Short and Slim Body Type
Your body shape: You are not very tall and have a slim but not very muscular body.
What to choose: Elasticated shorts are ideal for you. Do not choose long or loose-fitting swimwear that may attract attention to the fact you are not very tall.
Here's a style of arena men's beachwear you might like: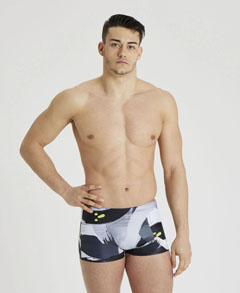 Short and Stocky Body Type
Your body shape: You are not very tall and are carrying a few extra pounds on certain parts of your body.
What to choose: High-cut swim briefs are ideal to make your legs look longer. Vertical stripes or slim-fits are highly recommended because they will make you look slimmer.
Here's a style of arena men's beachwear you might like: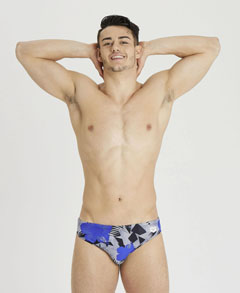 Other Things You Might Need for Your Day at the Beach
In addition to swim shorts, there may be other gear or beachwear that you'll need.
To start, you may want a t-shirt to keep the sun off your upper body and a stylish backpack to carry your belongings. Plus, some of the best days at the beach carry on until the night, so you may need hoodies and sweatshirts to wear with your swim shorts when the temperature starts to drop.
If you are putting in some serious swimming time at the beach, you should make sure that you're protecting your body appropriately. Regular saltwater swimming can tire out your eyes. So you may want to consider investing in outdoor swimming goggles, which can protect your eyes from the water and UV sunlight. 
Also, if you're a serious open-water swimmer that hits the beach to swim year-round, you may even want to consider a wetsuit.
Choosing Men's Beachwear Doesn't Have to Be Difficult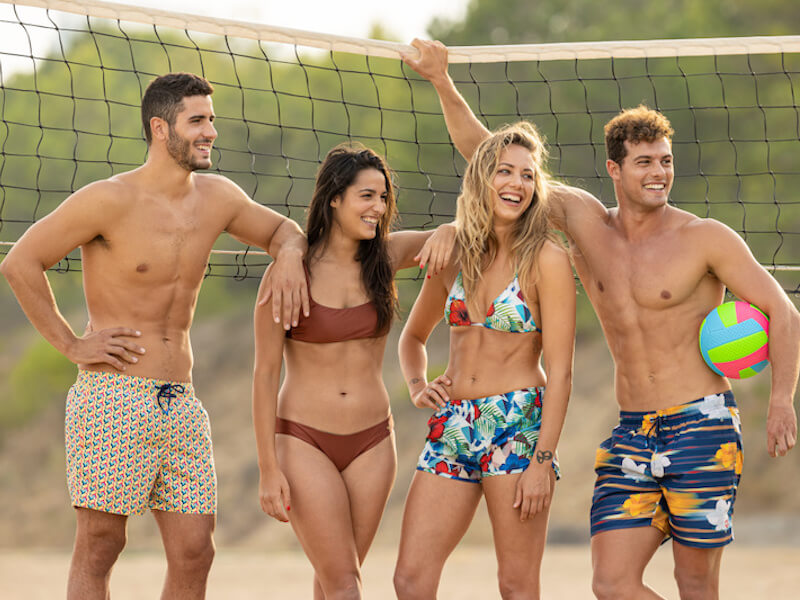 As mentioned earlier, choice can be overwhelming. But when you know what you're looking for, it isn't so bad. Hopefully, you have found the right swimwear that will help you strut your stuff during the summer months. 
Functionality is the most important thing when it comes to buying performance clothing, but don't let that stop you from wearing beachwear that suits your style. Whether you want to stand out or blend in, there's a pair of swim shorts with your name on them.
Remember that it's important to consider what it is you'll be doing at the beach, and buy the appropriate clothing for your activities. Consider whether elasticated or non-elasticated will suit you better too.
There's men's beachwear for every body type, be confident when you choose the right clothing for you. Whether you're skinny, muscular or stocky, tall or short, it doesn't matter. Simply pick the clothing that will make you feel comfortable.
Don't forget that all of the above products and much more can be found on arena's online store.