Can a Kung Fu practitioner compete in the UFC?
Chinese martial arts: many brave have tried it and to master it, and so many have failed miserably. It's not something you can just pick up and practice for a week, a month, or a year. No, it's a lifestyle.
The UFC is filled with mixed martial artists and their styles offer a wide array of movements and specialties. Let's find out if a Kung Fu practitioner could fare well in the UFC.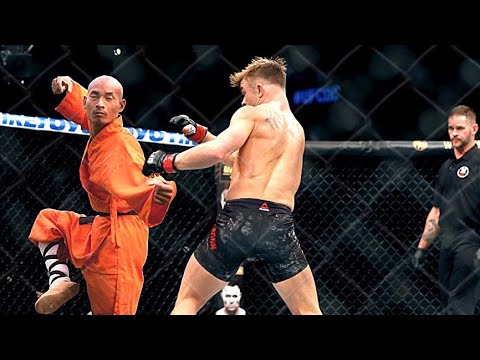 This video was uploaded by Brutal Tv on their official Youtube Channel. Don't forget to check them out.
The following article is the transcript of the video above.
Kung Fu in UFC
First things first, the art of Kung Fu taken on in the purest form does extreme damage to the body, it's deadly. There are countermoves that literally could leave your arms, neck, and back broken in a quick and painful manner. Given the repercussions of such deadly force, the art and style in its purest form is not allowed in the MMA arena. Would it fare well? Heck yeah! The devastating blows and movements done by Kung Fu practitioners take skill, diligence, and patience that allows for them to be absolutely intimidating competitors.
You kind of would not like trying to rush someone who is well trained in the art of Kung Fu to be on the defensive with you. Just one wrong move and you could be asleep in no time. A quick hit to the throat would have you gasping for what little air was left in your lungs and cause you to pass out. It gets kind of real.
Now, that's not saying that an MMA fighter is not a challenging opponent for a Kung Fu artist. In fact, a well-trained MMA practitioner can and will have many upper hands, since they are accustomed to the rules. Due to the mixed varying styles that MMA uses, the anticipation of one's movements can become rather challenging for the master. Waxing on and waxing off really isn't as fluid when the vehicle keeps changing its hood color, location, and size.
The mixture of Kung Fu, Jiu-jitsu, and other defensive and offensive fighting styles can leave opponents extremely confused when they are trying to anticipate the other's movements. When an MMA fighter gets taken to the ground, they become Wrestling and Jiu-jitsu masters, focusing on the positioning of the opponent and patiently waiting for that right moment that could subdue them.
We have all seen those MMA fighters, they really do pay a lot more attention than people give credit for. I guess when you have boxers such as Mayweather and Mcgregor in the ring, you can't help but think that it can be rather comical.
But what isn't comical is the dedication that Kung Fu takes to perfect. After Lyoto Machida paved the way for Karate in MMA, Karate is now normalized as a legitimate martial art to train in as a combat sport, mixed martial arts fighter. Kung Fu practitioners are people who have been able to put their bodies under extreme conditions. This is what would lead us to believe that they would truly make a gruesome competitor in the ring.
Kung Fu isn't as simple a fighting style that is a jab-jab-punch-kick type thing. This isn't Mortal Kombat, here we don't have any cheat codes that enable you to fly through the air with a flying kick. Movements within Kung Fu take precision, a careful tactic of evaluating one's own self before making a move. When it comes to MMA however, that slower preparation that is utilized within those specific forms can be hazardous in the ring. It's been used in the ring a few times before in the past by fighters such as Zhang Weili.
UFC women's straw weight fighter Zhang Weili became UFC's first asian-born, chinese champion by knocking out Jessica Andrade in the first minute of the first round back at UFC fight night on august 31, 2019.
Tony Ferguson has made it known publicly on social media that he trains Wing Chun Kung Fu, a southern Chinese-Cantonese style of close-range, Kung Fu made famous by Bruce Lee and Ip Man. I mean, we didn't say it was impossible.
Zabit Magomedsharipov, a Shaolin Kung Fu, Sanda/ Sanshou and Wushu Kung Fu practitioner is unbeaten in the UFC and quickly rising up the UFC featherweight rankings. But we have to still remember that, even when they are in the ring, they are still utilizing forms of mixed martial arts and never the true pure form of martial arts.
All in all, of course, Kung Fu practitioners would fare decently well in the ring. The bottom line, however, is that with the rooms and pace of the sport. they may find themselves curled up into a choke hold that they just didn't see coming. That's all we have for you today,