Credits: Stev Bonhage / FIDE
The twelfth round of the Candidates Tournament in Madrid has concluded. Ian Nepomniachtchi clinched his tournament victory today, and will soon play a World Championship match, although his opponent remains to be decided. In clear second place after a victory today is Hikaru Nakamura. He sits a half point ahead of Ding Liren in third. Very conveniently, Nakamura and Liren will play each other in the final round, meaning tie-breaks will not play any role. If Liren wins he is cleanly past Nakamura, any other result means that Nakamura takes second.
Daily, Lichess is providing a broadcast of the games played in real-time. We also have a selection of annotated games by GM Ulvi Bajarani and video recaps by WGM-elect Jesse February.
Ian Nepomniachtchi – Richard Rapport ½ – ½
Rapport did us all a favor by playing a Sicilian in the tournament's decisive game. That's not to say the game featured much excitement. White maintained a very small advantage before trading down to a fairly safe endgame. The final position was one that Nepomniachtchi, under other circumstances, would have surely continued to try to win, but sitting a half-point away from a world championship match, he saw an opportunity to make a threefold repetition and didn't hesitate to take it.
https://lichess.org/study/embed/oIi8sTms/VeE7teZl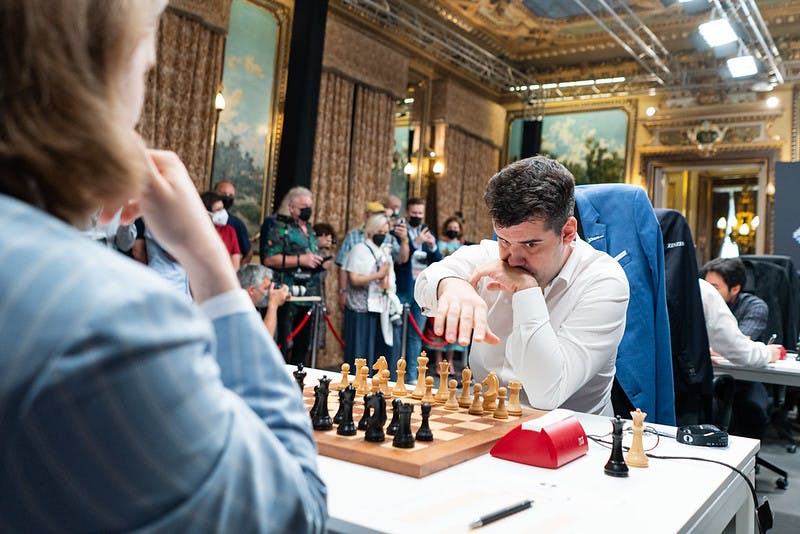 Credits: Stev Bonhage / FIDE
Hikaru Nakamura – Jan-Krzysztof Duda 1 – 0
No need to take a poll to find the game of the day from this one. Nakamura and Duda played a barnburner. Nakamura's novelty 11 Nh4 in a Najdor Sicilian seemed to have good effect, as he took a small advantage out of the opening. From there, Nakamura stumbled a bit and let the advantage slip. After Duda's subtle 22… Nh7 he is winning a pawn by force, but in a sharp position where Nakamura has lots of counterplay. Initially Duda held up well and was even close to winning after finding 32…b5.
Unfortunately for Duda, he gave the advantage back a move later after blundering with 33…d5. The position was then hanging by a thread as Nakamura sacrificed an exchange to get a dangerous passed pawn. Duda reacted passively and his position eventually became untenable. Duda resigned on move 52.
https://lichess.org/study/GOhAdjoj/SKqGUnYw#21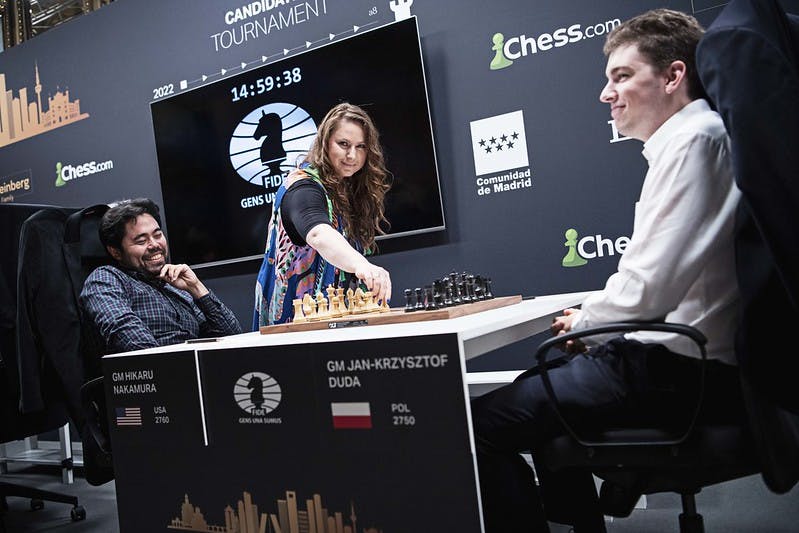 Credits: Stev Bonhage / FIDE
Alireza Firouzja – Liren Ding ½ – ½
If you check your database software, the opening path in this game is well traveled, and almost entirely drawn. Ding seemed to want to keep alive hopes of playing for the full point and sacrificed material to straighten out, and centralize his pawns. Unfortunately for Ding, and for the crowd, the position quickly became closed up and unsuitable for the sort of sudden dynamic changes that a decisive chess game usually needs. Nevertheless, Alireza found a way to sacrifice a piece for 2 pawns and liven things up. The fun didn't last very long, and a few moves later the game was drawn by repetition. 
https://lichess.org/study/embed/oIi8sTms/YjOXYwxY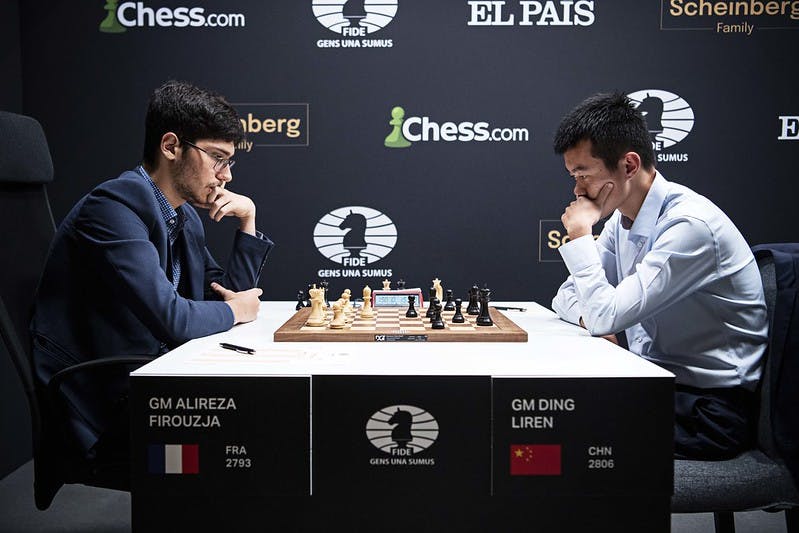 Credits: Stev Bonhage / FIDE
Teimour Radjabov – Fabiano Caruana ½ – ½
Caruana still had something to play for at the beginning of this game. A victory would have brought him up to second if there were no other decisive games. (There was) He sacrificed a pawn in a sharp Catalan for counterplay against the unprepared white pieces, but it was one of those positions that has precisely enough counterplay for the material, not one molecule more or less. The position then very logically exchanged material for piece activation again, this time in reverse, and the players found themselves in a drawn endgame.